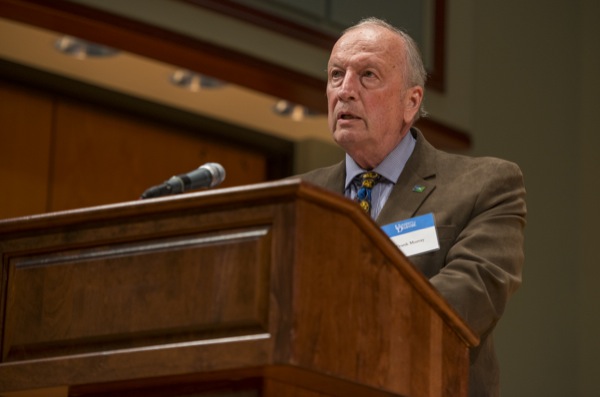 Education series
Teacher quality versus teacher practices focus of fall speaker series
11:27 a.m., Sept. 26, 2013--A panel of University of Delaware faculty members in the School of Education met on Sept. 18 to introduce a fall colloquium series that will focus on the importance of teacher quality versus teacher practices in regards to student performance.
The series will feature five speakers, whose topics range from how to evaluate teacher quality to the history of teachers' roles in the classroom.
From graduates, faculty
As it neared time for the processional to open the University of Delaware Commencement ceremonies, graduating students and faculty members shared their feelings about what the event means to them.
Doctoral hooding
It was a day of triumph, cheers and collective relief as more than 160 students from 21 nations participated in the University of Delaware's Doctoral Hooding Convocation held Friday morning on The Green.
"The purpose of the series is to identify which holds greater significance toward student prosperity -- teacher quality or teacher practices -- and then to work together to use that in the classroom, said Ralph Ferretti, professor and director of the School of Education. "Anyone with an interest in student education, whether it be political or educational, is welcome to attend the presentations."
The colloquium series will begin on Wednesday, Oct. 2. Each hour-long presentation will begin at 1 p.m. in 207 Willard Hall Education Building.
Oct. 2 -- Deborah Loewenberg Ball, William H. Payne Collegiate Professor and Arthur F. Thurnau Professor from the University of Michigan, will present a talk titled "It's a Moral Imperative: Skillful Teaching Can't be Left to Chance."
Oct. 16 -- Frank Brush Murray, H. Rodney Sharp Professor of Educational Studies and Psychology at UD, whose topic is "Diagnosing the Health of U.S. Teacher Education: Findings from Fifteen Years of Accreditation Work."
Oct. 23 -- James Fraser, professor of history and education, New York University, will speak on "Good Teaching, Good Teachers, Good Teacher Education: Three Chickens, Three Eggs."
Nov. 4 -- David K. Cohen, John Dewey Collegiate Professor of Education and Public Policy, University of Michigan, will focus his speech on "Why the Weaknesses of Teacher Evaluation Policies are Rooted in the Weaknesses of Teaching and Teacher Education."
Dec. 4 -- James W. Stigler, professor of psychology, University of California, Los Angeles, will present "Does VAM + MET = Improved Teaching?: Thoughts on Using Data to Improve Teaching."
Article by Lily Newton