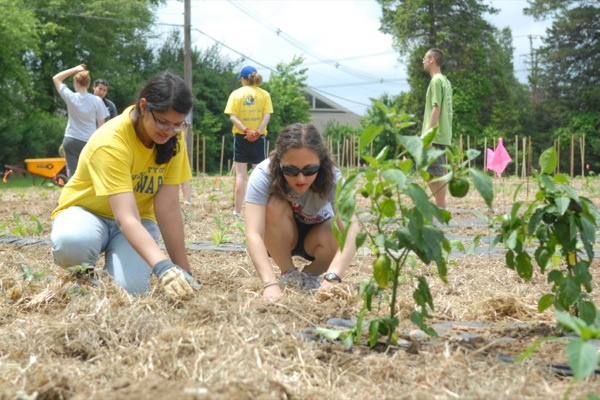 Carnegie task force announced
UD task force to reach out regarding Community Engagement Classification
11:20 a.m., Sept. 13, 2013--A special task force has been formed at the University of Delaware to gather and organize information as UD prepares to apply for the Carnegie Foundation for the Advancement of Teaching – Community Engagement Classification.
With materials due to the foundation in April 2014, the task force will begin reaching out to many constituencies on and off campus this month.
From graduates, faculty
As it neared time for the processional to open the University of Delaware Commencement ceremonies, graduating students and faculty members shared their feelings about what the event means to them.
Doctoral hooding
It was a day of triumph, cheers and collective relief as more than 160 students from 21 nations participated in the University of Delaware's Doctoral Hooding Convocation held Friday morning on The Green.
A goal of the task force is to refine UD's model of an "Engaged University," one of six milestones in the Path to Prominence strategic plan, for the application.
"Among the University of Delaware's greatest strengths is its long tradition of public service," said UD President Patrick Harker. "As the largest university in a nationally and internationally important state, we have the opportunity to work closely with public and nonprofit organizations in Delaware, the region and across the globe, applying research and human talent to address pressing social and civic issues while preparing our students as educated, engaged citizens."
Lynnette Overby, director of the Office of Undergraduate Research and Experiential Learning, will chair the task force, Harker and Provost Domenico Grasso announced. 
"Prof. Overby has a deep commitment to community research and service, and I am delighted that she has accepted leadership of this important University-wide effort," said Grasso. "The process for preparing an application for Carnegie Engaged University classification will be a productive way for UD to review its commitment to community engagement and consider how well our policies, procedures and curricular offerings align with our aspirations."
Unlike the Carnegie Foundation's other classifications that rely on national data, this is an elective classification. Institutions choose to participate by submitting required documentation describing the nature and extent of their engagements with the community. As part of the data-gathering effort, the task force will invite UD faculty and staff to respond to a survey about their public service activities in the near future. 
The following faculty, staff and community representatives are serving on the task force:
Avron Abraham – Center for Academic Success and University Studies
Kate Adams – Residence Life and Housing
Ann Ardis – College of Arts and Sciences
Tracey Bryant – Office of Communications and Marketing
Joan Buttram – College of Education and Human Development
Iain Crawford  – Department of English
Edward Freel – Institute for Public Administration
Deborah Hayes – Office of Communications and Marketing
Amy Johnson – Institute for Global Studies
James Jones – Center for the Study of Diversity
John Jungck – Interdisciplinary Science Learning Laboratories
Heather Kelly – Office of Institutional Research
Bill Latham – Department of Economics
Ken Lewis – Department of Economics
Jennifer Merrill – College of Earth, Ocean, and Environment
Jennifer Naccarelli – Department of Women and Gender Studies
Lynnette Overby – Office of Undergraduate Research and Experiential Learning, chair 
Steve Peuquet – Center for Community Research and Service
Kathy Pusecker – Office of Educational Assessment
Carolyn Quinci – College of Health Sciences
Dan Reyes – Community Representative – Food Bank of Delaware
Dan Rich – School of Public Policy and Administration
Jeff Rivell – Office of Admissions
Michelle Rodgers – College of Agriculture and Natural Resources
Rob Rudd – Office of University Development
Sue Serra – Office of Service Learning
Janine Sherrier – College of Agriculture and Natural Resources
Judy Smith – Office of Undergraduate Research and Experiential Learning
Michael Vaughan – College of Engineering
April Veness – Department of Geography
Catherine Wojewodzki – University Library