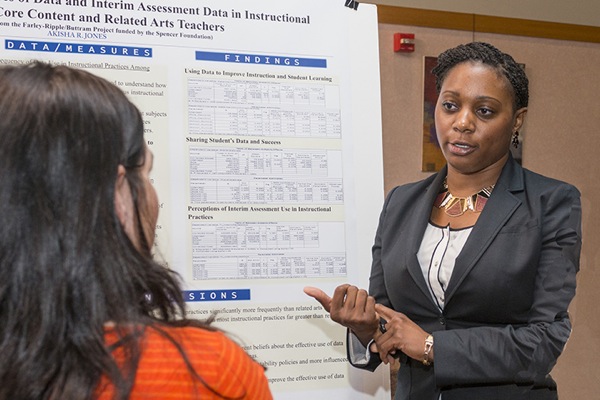 Future leaders in education
UD students selected for DDOE internship
7:02 p.m., Oct. 4, 2013--This summer, Akisha Jones, a doctoral student in the University of Delaware College of Education and Human Development's Evaluation, Measurement, and Statistics Program, and Rebecca Marshall, a triple major in political science, Spanish, and women and gender studies at UD, were hand-selected as interns for the inaugural class of Delaware Future Ed Leaders (DFEL). 
This six-week program was developed by the Delaware Department of Education (DDOE) for current students, recent graduates and junior teachers who have a passion for education and want to gain hands-on exposure to policy work. DFEL strives to promote the highest quality of learning for every Delaware student. 
'Resilience Engineering'
The University of Delaware's Nii Attoh-Okine recently published a new book with Cambridge University Press, "Resilience Engineering: Models and Analysis."
Reviresco June run
UD ROTC cadets will run from New York City to Miami this month to raise awareness about veterans' affairs.
Jones and Marshall had been working with Atnre Alleyne, a doctoral candidate in political science and international relations at UD who was awarded a Harvard Strategic Data Fellowship to work at DDOE.
"Atnre was aware of my skills related to research and evaluation and sought me out to intern with his research team," Jones said. 
From July 1-Aug. 9, each of the nine participants was charged with conducting analysis on work critical to Delaware's education policy agenda. They attended weekly sessions with Delaware education leaders, helping them to think strategically about education issues of national importance. 
 "Akisha and Rebecca have provided critical research support to the Teacher and Leader Effectiveness Unit," Alleyne said. "Their work is being widely used by the leadership team at the DDOE." 
Among their deliverables, Jones completed a 50-page report on a statewide survey of teachers and specialists to assess the impact of the statewide Professional Learning Communities (PLC) initiative. PLCs are one of Delaware's major education reform initiatives.
Jones is finishing her doctoral studies at the University. She has connected her dissertation to her work in DFEL, examining predictors of urban teacher effectiveness.  "My dissertation will help inform policy makers and practitioners on key attributes of effective urban teachers in efforts to recruit and prepare the most effective teachers in urban schools," she said.
Marshall helped plan the release of Delaware College Going Diagnostic, an event attended by more than 100 education leaders. She also completed research briefs analyzing "Which Delaware Students Enroll and Persist in College," "How 'College Ready' are Delaware Students," and "Does student proficiency equal student growth?"
Marshall said she found the internship challenging but extremely rewarding.  "I didn't have a background in education like Akisha, so everything was new for me.  Being a DFEL allowed me to see how statistics can be and should be used, and it opened a new skillset for me that I think is really useful."  
Marshall continues to work with the DDOE as a contractor researching the possibility of using a grant for teachers in classrooms under emergency certification or identifying ways to support teachers who are struggling.
Article by Lily Newton
Photo by Kathy Atkinson