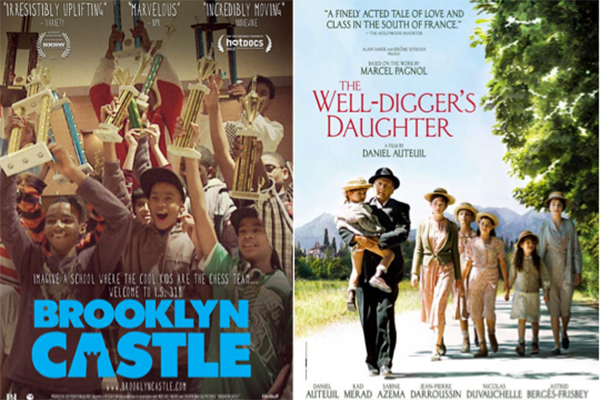 Through Nov. 17: International films
International Film Series presented Sundays at Trabant Theatre
10:11 a.m., Oct. 10, 2013--A fall semester International Film Series, sponsored by the University of Delaware Department of English, will offer screenings at 7 p.m., Sundays, through Nov. 17 in the Trabant University Center Theatre.
Admission is free and the films are open to the public. 
Fulbright awards
Three University of Delaware students and an alumna have received word this spring that they will travel abroad as part of the newest class of Fulbright Student Program award winners.
Peace Corps plans
Two University of Delaware students, John McCarron and Bridgette Spritz, have been selected as Peace Corps volunteers and will serve in Ghana and Rwanda.
The films will be shown as follows:
Oct. 13 – Brooklyn Castle, 2012, American film, 101 minutes. The film is about a school at which 65 percent of the students live below the federal poverty level but has the highest ranked junior high chess team in the nation.
Oct. 20 – The Silence, 2010, German, 118 minutes. The thriller begins 23 years ago when a young girl is brutally murdered in a wheatfield. Today, on the exact same date, another young girl is missing, her bicycle abandoned in the same spot.
Oct. 27 – Rust and Bone, 2012, French, 120 minutes. Directed by Jacques Audiard and starring Marion Cotillard and Matthias Schoenaerts, the romantic drama focuses on Ali who leaves the north of France for Antibes to live with his sister and her husband and who develops a bond with a killer whale trainer.
Nov. 3 – Alois Nebel, 2011, Czech, 84 minutes. The animated drama, directed by Tomas Lunak, is based on a comic book trilogy and was described by the Hollywood Reporter as a "sheer wonder."
Nov. 10 – The Kid with a Bike, 2011, Belgian, 87 minutes. The winner of a grand jury prize at the Cannes Film Festival, the deeply moving film by the Dardenne brothers tells the story of a troubled young boy who, when abandoned by his father, obsessively searches for his bicycle, placing his late bit of hope in this symbol of their relationship.
Nov. 17 – The Well-Digger's Daughter, 2012, French, 107 minutes. The film tells the story of a young woman promised in marriage by her father as she is swept off her feet by a younger lover. The New York Times described the film as a "once-upon-a-time French film about love, family and the seductive beauty of the Provençal countryside" and "a pastoral wrapped in gauze, sunlight and sentimentality."
The International Film Series is made possible by the generous support of the UD Faculty Senate Committee on Cultural Activities and Public Events (CAPE).