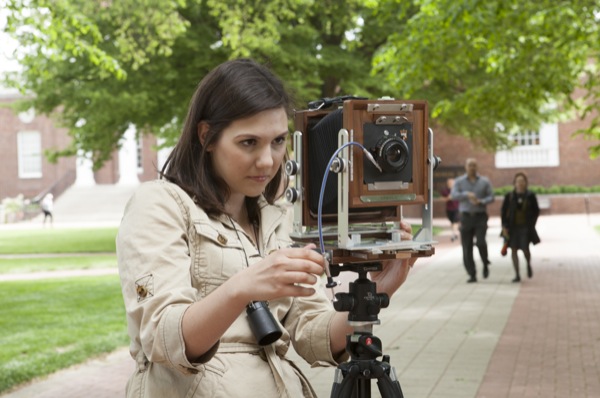 Digital humanities
Workshop showcases variety of UD projects combining technology, humanities
1:22 p.m., Oct. 21, 2013--From a website about Chinese immigrants building the transcontinental railroad to digital re-creations of historic Delaware photos, projects in the humanities at the University of Delaware are increasingly making use of technology to enhance research and student learning.
Several of these projects were showcased last week at a session of the Public Humanities in a Digital World lecture and workshop series. The ongoing series is hosted by the Interdisciplinary Humanities Research Center in the College of Arts and Sciences.
From graduates, faculty
As it neared time for the processional to open the University of Delaware Commencement ceremonies, graduating students and faculty members shared their feelings about what the event means to them.
Doctoral hooding
It was a day of triumph, cheers and collective relief as more than 160 students from 21 nations participated in the University of Delaware's Doctoral Hooding Convocation held Friday morning on The Green.
"Digital resources are building bridges between disciplines on our campus," center director Ann Ardis, deputy dean of the College of Arts and Sciences, said in introducing the speakers. UD faculty members and students gave brief overviews of their digital humanities projects, and the group discussed ways to expand and expedite the use of technology in a variety of academic areas.
The highlighted projects were:
"The Emancipation Project," in which undergraduate history students are working to develop a digital edition of a Civil War diary from the Massachusetts 54th Black Regiment belonging to the family of Ritchie Garrison, professor of history and director of UD's Winterthur Program in American Material Culture. The multimedia project will include a digital copy of the diary, student papers about the diary and video. Garrison said he wanted descendants of the soldiers to have access to the material, so he chose an online platform rather than, for example, an academic journal. Also, he said, "This is a very powerful way to teach, and the students are learning an enormous amount."
"I Want the Wide American Earth," an exhibition and website about the experiences of the Chinese migrants who worked on America's railroad from 1865-69. Jeanne Pfaelzer, professor of English, who has conducted extensive research on those migrants, worked with the Smithsonian Institution to develop the exhibition and with Stanford University on the website. She told the digital humanities group that online archives have been essential to her work, allowing scholars and others to collaborate from different counties and in different languages to "stitch together the pieces of a puzzle."
"Rephotography," a project in which graduate student Candice Myruski and David Ames, director of UD's Center for Historic Architecture and Design, are re-creating photos taken in the 1920s and '30s by Delaware documentary photographer Roydon Hammond. They are using a sophisticated combination of traditional film and digital work, which Myruski said gives researchers working with the images "the best of both worlds." Another digital tool, Google Street View, has been essential in pinpointing the locations of Hammond's photos, Ames said.
April Veness, associate professor of geography, presented an overview of her continuing project focused on the history of Newark, Del., which began in 2007. Over the years, she and her students have interviewed numerous individuals and collected a great deal of material, which has evolved into a multimedia project, she said. "The goal is high-quality, digital storytelling" that can be shared with the public, Veness said.
"Engaging Communities Through Museums," a project in which Katie Bonanno, an undergraduate art conservation student, is focused on the history of the New London Road area, home to Newark's oldest African American community, and has designed a series of interactive programs to accompany University Museums exhibitions. Museums are exploring new ways to use technology in their outreach, Bonanno said, and the New London Road project helps inform UD students and others about this part of Newark's history. "My view is that museums can embrace new technology and make community engagement a priority," she said.
The Public Humanities in a Digital World series is co-sponsored by the UD Library, IT-Academic Technology Services, the College of Arts and Sciences and the Department of English.
Article by Ann Manser
Photo by Ambre Alexander