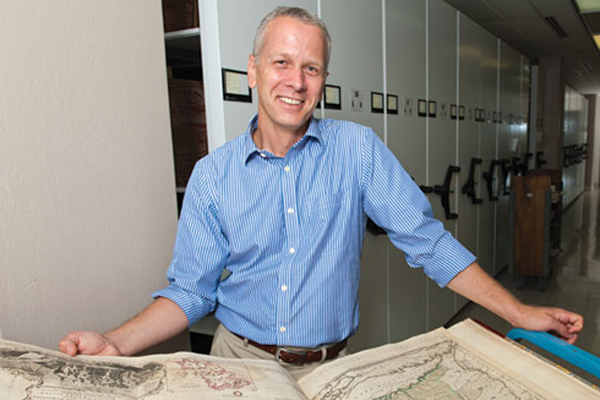 Oct. 11-12: Maps topic of conference
Conference on 'Maps in American Experience' to be held at Winterthur
10:38 a.m., Oct. 7, 2013--A conference in conjunction with the exhibition "Common Destinations: Maps in the American Experience" will be held Friday and Saturday, Oct. 11-12, at Winterthur.
The conference has been organized by Martin Brückner, associate professor of English and of material culture studies at UD.
June 5: Blue Hen 5K
University of Delaware graduates planning to attend Alumni Weekend are encouraged to register for the annual Blue Hen 5K walk and run, which will be held Sunday morning, June 5.
June 6-9: Food and culture series
The 20th annual June Lecture Series at the Osher Lifelong Learning Institute at UD in Wilmington will be held June 6-9. Titled 'June a la Carte,' this year's program focuses on great political documents, feminism, world politics and a Newark cuisine sampler.
The conference will be held from 8:30 a.m. to 7 p.m. on Friday, Oct. 11, and from 8:30 a.m. to 4:30 p.m. on Saturday, Oct. 12. There will be a post-conference tour of the historic houses of Odessa, Del., from 9 a.m. to 4 p.m. on Sunday, Oct. 13.
Friday speakers will include Matthew Edney, Osher Professor in the History of Cartography and director of the History of Cartography Project at the University of Wisconsin, Madison; Margaret Pritchard, senior curator and curator of prints, maps and wallpaper at Colonial Williamsburg; James Akerman, director of the Hermon Dunlap Smith Center for the History of Cartography, Newberry Library; and Jennifer Rogers, professor of the history of art and architecture at Harvard University.
A workshop session will be held from 3-4 p.m. on Friday.
Saturday speakers include Nenette Luarca-Shoaf, gust curator, Amon Carter Museum of American Art; Brückner; Diane Dillon, assistant director of research and education, Newberry Library; and Susan Schulten, professor of history, University of Denver.
A workshop session will be held from 3-4:30 p.m. on Saturday.
On Sunday, there will be a post-conference option with a bus trip from Winterthur to Odessa, where participants can tour historical houses. A bus will leave Winterthur at 9 a.m. and return at 4 p.m.
Brückner's work on the exhibition, which runs through Jan. 5, 2014, was featured in the University of Delaware Research magazine.
For details on the conference, see the website or the brochure in PDF format.
Photo by Evan Krape