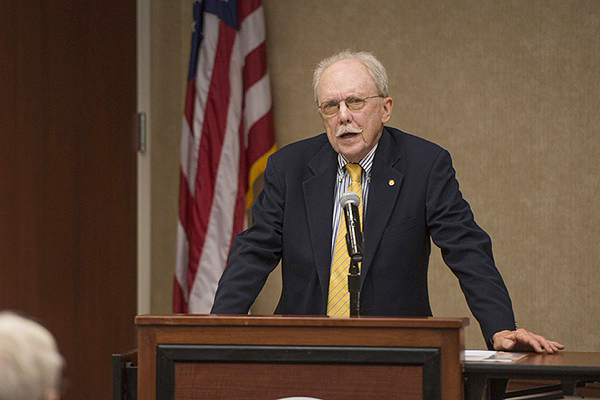 'My Intellectual Journey'
Ray Callahan discusses his career as historian, author of British military history
1:50 p.m., Nov. 20, 2013--A head-on collision with the British Official Secrets Act of 1911 changed the focus of Raymond Callahan's doctoral dissertation, but also led to a long and distinguished career as a teacher, researcher and author.     
Professor emeritus of history at UD, Callahan recounted his personal and professional journey during a "My Intellectual Journey" lecture, sponsored by the UD Association of Retired Faculty on Nov. 7 at the Courtyard Newark-University of Delaware. 
'Resilience Engineering'
The University of Delaware's Nii Attoh-Okine recently published a new book with Cambridge University Press, "Resilience Engineering: Models and Analysis."
Reviresco June run
UD ROTC cadets will run from New York City to Miami this month to raise awareness about veterans' affairs.
"The question of how we decide what profession or trade or life's work we will embrace and which career we will choose  is really a very interesting one," Callahan said. "The answers to that question are as numerous as the number of individuals to whom it could be posed."
There are any number of things that can lead up to the moment when something clicks in the mind and the person says, "This is what I want to do when I grow up," Callahan said.
Familiar factors, Callahan noted, often include some combination of family influence, inspiring teacher or adviser, a book that captured our imagination or a trip that we took with our parents that made us more curious about the world. 
"For me, the reasons are multiple, and two are on the list I just mentioned," Callahan said. "The other thing, because it is very important to me, is serendipity, or, as historians like to call it, contingency, which sounds more serious than serendipity, or even more simply, chance." 
The first serendipity, Callahan noted, was a prolonged childhood illness during which his mother, who had earned her degree during the 1930s as a nurse, would often read to him from the historical novels that she loved. 
"They were Westerns in general," Callahan said. "Listening to these stories, I became engaged with this dramatic, colorful and entirely mythical segment of the past, and images of those landscapes began to fill my mind." 
Also important, Callahan said, was the existence of a local lending library, where his interest in the history of the American West eventually led to obtaining a long neglected copy of On the Border with Crook, written by John Bourke, a former U.S. Army cavalry officer who had served with Gen. George Crook during the Army's campaign against the Western Apaches in what was then called the Arizona Territory. 
Callahan recalled how his reading interests widened to include tales of naval warfare by British novelist C.S. Forester, and Bugles and the Tiger, by John Masters, an officer in the British Army who served in India and retired after Indian independence in 1947. 
"Masters was a successful writer of a great many historical novels, including Bhowani Junction, set in the last year of British rule in India," Callahan said. "It is still an interesting book to read, not because it is great literature, but because it is a very interesting and largely autobiographical account of what it was like to be a British officer in India as the whole structure of British rule became unglued." 
Mesmerized by the book, Callahan found that he wanted to know how the British came to rule that huge country.
"They put together a massive institution known as the Indian Army," Callahan said. "I wondered what happened to it in the war (World War II) that began in the last paragraph of the book. That was a half century ago, and I have been answering those questions ever since." 
While planning his doctoral thesis in the spring of 1964, Callahan's proposed path of research led him straight into a formidable roadblock known as the British Official Secrets Act of 1911.
The law, which basically closed information for a minimum of 50 years, was amended as late at 1947.
"There was a lot of correspondence back and forth between myself and the custodians of the British secrets in London," Callahan said. "The technically polite but very clear message was that although it was a very interesting topic, neither myself or anyone else would be able to see those records before the earliest years of the 21st century." 
With the Official Secrets Act blocking access to the materials he needed to tell the end of the story of British rule in India, Callahan decided to got back to the 18th century to learn how it all got started. 
"Out of all of this came a fascinating tale of how the East India Company attracted an army of impoverished Indians and built the force that would conquer India and then go on to establish British power across the globe," Callahan said. "The Indian Army was led by men whose social standing would never have allowed them to hold an officer's commission in the regular British Army." 
Callahan noted that about 90 percent of the men who joined the Indian Army as young officers died within their first five years of service. Their remains now rest in weed-choked cemeteries, many of which are attached to neglected Anglican churches in India.
"Those company officers got me my Ph.D.," Callahan said. "But for the British Official Secrets Act of 1911, I might never have been able to find them and receive my doctorate and accept a job that was offered to me at the University of Delaware."
Callahan taught at UD for 38 years and served as director of the Master of Arts in Liberal Studies program and as associate dean of the College of Arts and Sciences. He held the John F. Morrison Chair of Military History at the U.S. Army's Command and General Staff College and is a fellow of the Royal Historical Society. 
An expert on military history, Callahan has authored five books, most recently Churchill and His Generals. His doctoral and master's degrees are from Harvard University; his bachelor's degree is from Georgetown.
Article by Jerry Rhodes
Photo by Kathy F. Atkinson