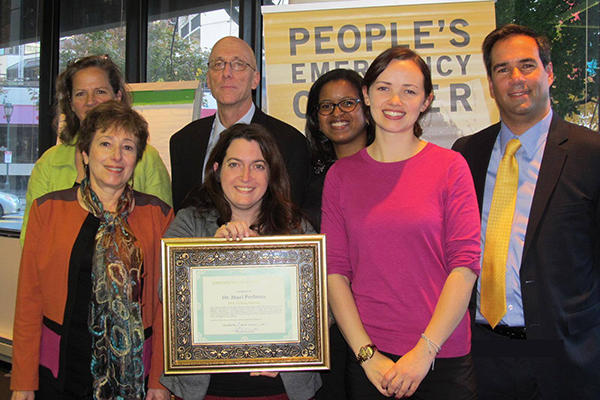 They matter, too
UD's Perlman reports on scope of childhood homelessness
11:55 a.m., Nov. 18, 2013--The needs of infants, toddlers and school age children experiencing homelessness have been largely ignored, with few services solely devoted to supporting their growth and development. 
As a result, children in shelters or other vulnerable situations frequently demonstrate developmental delays, physical and mental health conditions, and poor academic achievement. 
Chronic wounds
UD's Millicent Sullivan and Kristi Kiick have received a $1.4 million grant from the National Institutes of Health for research that could provide a new approach to the treatment of chronic wounds.
Prof. Heck's legacy
The American Chemical Society is highlighting the legacy of the late Nobel laureate Richard Heck, the Willis F. Harrington Professor Emeritus of Chemistry at the University of Delaware with a digital tribute on its publications website.
Staci Perlman, assistant professor in the University of Delaware's College of Education and Human Development, has partnered with Joe Willard, vice president of policy at the People's Emergency Center in West Philadelphia, to examine the extent of homelessness in children with the intention of identifying interventions that could be implemented to improve their outcomes.
Perlman and Willard's report, "Childhood Homelessness in Pennsylvania," outlines the scope of the problem by investigating the number and ages of the children served by emergency housing and transitional housing (EH/TH), the prevalence of other childhood risk factors and the degrees to which rates of risk factors are associated with childhood homelessness. 
Key findings
Key findings of the report include the following:
In 2012, nearly 10,000 children spent at least one night in EH/TH in Pennsylvania.
Young children comprise approximately 60 percent of the population of children experiencing homelessness -- and are disproportionately more likely than older children to experience homelessness.
These children are more likely than their peers to experience an array of other risk factors, including poverty; child maltreatment; to be born to a young mother; and to have received poor prenatal care, leading to an increased likelihood of poor social-emotional development and educational well-being.
Broken down further, Perlman found that youngsters under the age of six are disproportionately represented among children served in EH/TH programs. To ensure that the developmental needs of these young children are met, research has identified two primary protective factors: positive parent-child relationships and access to quality early childhood education and intervention. 
For children ages 6-12 -- one of the largest age groups served-- services should support their transition into public education and foster their capacity to build relationships with their peer groups. Encouraging parental involvement in schools is likely to be a key component. 
Next steps
Though the research has been based in Philadelphia, the results have much broader implications because current estimates suggest that the rate of childhood homelessness increased by 10 percent nationally in the last year.
Researchers must work to disentangle the influence of poverty from the effect of homelessness on the early development and well-being of young children experiencing homelessness.
Then, in partnership with community-based providers, they can develop evidence-based strategies that promote early child development for young children experiencing homelessness. 
Although currently unfunded, Perlman said she hopes to establish pilot studies of parenting interventions in the context of emergency/transitional housing programs and evaluate the subsequent relationship between quality of emergency/transitional housing programs and child/family outcomes.
Perlman, recipient of the American Psychological Association's 2011 Early Career Award for Outstanding Contributions to Practice in the Field of Child Maltreatment, is currently co-editing a book, Supporting Homeless Families: Current Practices and Future Directions.
She serves a joint appointment in CEHD's Delaware Education Research and Development Center and the Department of Human Development and Family Studies.
Article by Alison Burris