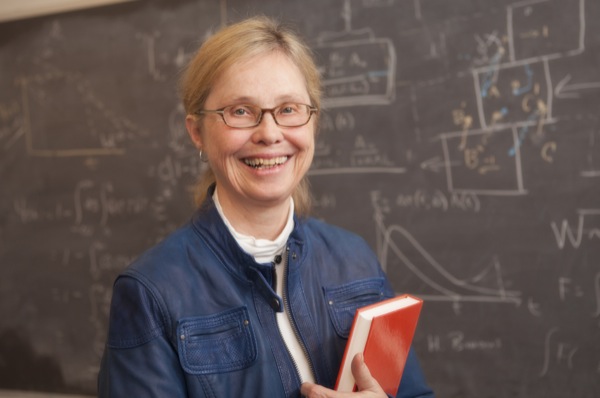 Named professor
Pamela Cook named Unidel Professor of Mathematical Sciences
9:58 a.m., Nov. 20, 2013--L. Pamela Cook-Ioannidis, professor of mathematical sciences and associate dean of engineering, has been named Unidel Professor of Mathematical Sciences at the University of Delaware, effective Nov. 1. 
An applied mathematician, her research focuses on mathematical modeling of fluids and the prediction of flow properties, with a current emphasis on complex (visco-elastic) fluids. 
'Resilience Engineering'
The University of Delaware's Nii Attoh-Okine recently published a new book with Cambridge University Press, "Resilience Engineering: Models and Analysis."
Reviresco June run
UD ROTC cadets will run from New York City to Miami this month to raise awareness about veterans' affairs.
Cook-Ioannidis chaired UD's Department of Mathematical Sciences for nine years and chaired the University's Commission on the Status of Women for six years.
She is a fellow of the Society for Industrial and Applied Mathematics (SIAM), a fellow of the American Association for the Advancement of Science (AAAS), and an associate fellow of the American Institute for Aeronautics and Astronautics. 
Cook-Ioannidis has served on the board of governors of the Institute for Mathematics and its Applications (IMA) (University of Minnesota) and on the scientific advisory board of the Fields Institute (University of Toronto). She currently serves as the vice president for publications of SIAM and, as of Jan. 1, she is president-elect of SIAM, the premier organization for applied mathematics worldwide.
As a co-principal investigator on UD's National Science Foundation ADVANCE PAID award, she has directed efforts to improve the recruitment and retention of women faculty in science, technology, engineering and mathematics (STEM) disciplines. She received the 2012 University Change Agent Award from the Women in Engineering ProActive Network (WEPAN) and the 2009 University of Delaware Trabant Award for Women's Equity. 
Cook-Ioannidis earned her doctorate in mathematics at Cornell University, received a NATO postdoctoral fellowship to Utrecht University in the Netherlands and then was a mathematics department faculty member for 10 years at the University of California Los Angeles (UCLA) before joining UD.
She has held visiting positions at institutions including the California Institute of Technology, the University of Maryland, and at the Institute for Mathematics and its Applications (IMA) at the University of Minnesota, and is the co-author of the book Transonic Aerodynamics. 
Unidel professorships are awarded by the Unidel Foundation, which was established by Amy E. du Pont, a noted sportswoman and philanthropist who supported women's education at Delaware and bequeathed her estate to create the foundation. The Unidel Foundation makes grants to finance specific projects to enrich educational programs at UD.
Article by Artika Rangan Casini
Photo by Ambre Alexander