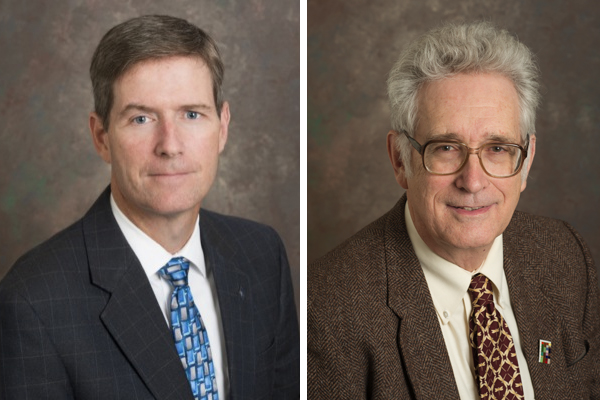 AAAS Fellows
UD professors Riordan, White recognized for advancing science
1:32 p.m., Nov. 25, 2013--University of Delaware professors Charles G. Riordan and Harold (Hal) B. White III have been elected fellows of the American Association for the Advancement of Science (AAAS), the world's largest general scientific society. 
The association bestows the title on AAAS members who are selected by their peers for scientifically or socially distinguished efforts to advance science or its applications. The 388 members selected this year will officially receive the distinction on Feb. 15 during the 2014 AAAS Annual Meeting in Chicago.
National Medal of Science
President Barack Obama recently presented the National Medal of Science to University of Delaware alumnus Rakesh Jain.
Warren Award
Rosalind Johnson, assistant dean for student success in the NUCLEUS Program in UD's College of Arts and Sciences, was presented the John Warren Excellence in Leadership and Service Award during a May 26 ceremony.
Riordan, vice provost for research and professor of chemistry and biochemistry, was recognized "for distinguished contributions to bioinorganic chemistry, particularly to the mechanistic chemistry of nickel-containing enzymes, and for dedicated service to the University of Delaware." 
Riordan's research program, supported by the National Science Foundation (NSF), focuses on frontier mechanistic problems in inorganic chemistry that may be probed through synthesis, reactivity and kinetic studies. Research at this interface is collaborative and interdisciplinary and requires the tools of chemical synthesis, spectroscopy and physical organic chemistry. He and his research group are taking a bio-inspired approach to explore small molecule activation via low valent, late transition metal complexes, such as nickel, cobalt and iron. 
Riordan joined the UD faculty in 1997 and was chair of the Department of Chemistry and Biochemistry from 2002-07 and vice provost for graduate and professional education from 2010-12. In 2012, he was appointed vice provost for research, a position responsible for advancing UD's research enterprise, including oversight of five University-wide research institutes. 
He served on the UD Path to Prominence strategic planning committee, received the University's outstanding doctoral graduate advising and mentoring award in 2008, and has been a member of the editorial advisory boards of the Journal of Biological Inorganic Chemistry and Dalton Transactions.
Earlier this year, Riordan received the Delaware Section Award from the American Chemical Society. In 2010, he was named a fellow of the Royal Society of Chemistry. 
Riordan received his bachelor's degree in chemistry from the College of the Holy Cross and his doctorate in inorganic chemistry from Texas A&M University. 
White was elected as an AAAS Fellow "for contributions to the development of problem-based learning in undergraduate science instruction and dissemination of active-learning pedagogy through workshops, publications, and advocacy in professional organizations."
White's interests have focused on undergraduate education since the mid-1990s when he served as principal investigator on the first NSF grant on Problem-Based Learning (PBL) to UD. 
As a member of the Education and Professional Development Committee of the American Society for Biochemistry and Molecular Biology (ASBMB) and UD's Institute for Transforming Undergraduate Education (ITUE), White has conducted numerous PBL workshops in the U.S. 
Currently, White is an associate editor for Biochemistry and Molecular Biology Education, where he writes commentaries on PBL. His recent publications deal with the use of the research literature for problems, preparation of peer tutor-facilitators, faculty development and capstone courses. 
For the past 16 years, White also has been director of the Howard Hughes Medical Institute undergraduate science education program at UD. 
White has won numerous teaching awards, including the Delaware Professor of the Year from the Council for the Advancement and Support of Education (CASE) and the Carnegie Foundation for the Advancement of Teaching, announced Nov. 14. 
He received the College of Arts and Sciences Outstanding Teaching Award in 2005 and its Outstanding Service Award in 2007. He won the 2011 Howard Barrows Award for exceptional undergraduate teaching from McMaster University in Hamilton, Ontario. Next April, he will be honored with the 2014 ASBMB Award for Exemplary Contributions to Education. 
White earned his bachelor's degree in biochemistry from Penn State University and his doctorate in biochemistry from Brandeis University. He joined the UD Department of Chemistry and Biochemistry in 1971 after a postdoctoral research fellowship in chemistry at Harvard. 
In addition to these UD faculty, Mark A. Barteau, previously the Robert L. Pigford Chair of Chemical Engineering and senior vice provost for research and strategic initiatives at UD, was elected "for groundbreaking contributions to metal oxides and transition metal catalysis, which led to the development of fundamental understanding and design of novel, improved catalysts." Barteau departed UD in 2012 after 30 years at the University to take the helm of the University of Michigan Energy Institute, where he is the DTE Energy Professor of Advanced Energy Research.
Ginger Pinholster, national media relations coordinator at UD from 1996–2000 and director of the Office of Public Programs at AAAS since 2000, was elected "for tireless efforts on behalf of AAAS to ensure the accuracy and integrity of scientific information reaching the press and the public worldwide."
Founded in 1848, AAAS includes 261 affiliated societies and academies of science, serving 10 million individuals. Its flagship journal, Science, has the largest paid circulation of any peer-reviewed general science journal in the world, with an estimated readership of 1 million.