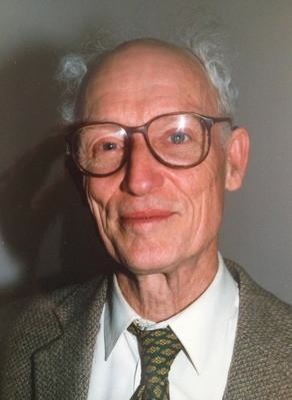 In Memoriam
Memorial service set Nov. 26 for emeritus professor Wallace H. McCurdy Jr.
1:30 p.m., Nov. 22, 2013--A memorial service will be held on Tuesday, Nov. 26, for Dr. Wallace Hutchinson McCurdy Jr., associate professor emeritus of chemistry and biochemistry at the University of Delaware, who died Nov. 20.
The service will be held at 3 p.m., Nov. 26, at the New Ark United Church of Christ, 300 East Main St., Newark. A reception will follow. A campus memorial service is being planned for early next year.
John Burmeister, Alumni Distinguished Professor of Chemistry and Biochemistry and association chairperson of the department, worked with Dr. McCurdy for 50 years and called him "an American original -- truly one of a kind." He added, "Wally was an avid supporter of the effort to bring back the American chestnut tree, and he had a passion for the environment, commuting by bicycle throughout his career, powering his home via solar cells and building an electric car (80 percent completed). He also was a key officer and supporter of the Delaware Academy of Science."
Dr. McCurdy, a 54-year resident of Newark, recently celebrated his 87th birthday.
Born in Pittsburgh, Pa., on Nov. 16, 1926, he graduated from Crafton High School in 1944 with the "scientific diploma" and from Penn State College with a bachelor's degree in chemistry in 1947. He obtained master's and doctoral degrees in chemistry in 1948 and 1951, respectively, from the University of Illinois and then pursued research and teaching at Princeton University. 
Through singing in a local church choir, he met and subsequently married Nancy Spicer on Sept. 4, 1954. In 1959, they moved with their three children to Newark, Del., where Dr. McCurdy joined the faculty of UD's chemistry department. He retired from the University in 1992.
Dr. McCurdy devoted himself to community service. He was president and founding board member of the Newark Day Nursery, was active in the anti-war and environmental movements, was a tutor at West Park Elementary school and supported the Delaware Science Olympiad.
He enjoyed gardening, singing, biking, sailing, family road trips and local Newark history and was an avid story-teller with an incredible memory for detail. He was a member of the American Chestnut Foundation, the American Chemical Society, the Elk River Yacht Club, the Delaware Academy of Science, Pacem in Terris, Eastern Electrical Vehicle Club, Northern Delaware Oratorio Society and The United Church of Christ.
He is survived by his wife, Nancy McCurdy; children, Laurie McKelvie and husband, Bill, of Shippensburg, Pa., Martha McCurdy and husband, Peter van Kan, of Madison, Wisc., and Alan McCurdy and wife, Linda, of Johns Creek, Ga.; and brother, Dudley McCurdy and wife, Jane, of Saratoga, Calif.; and seven grandchildren.
In lieu of flowers, memorial donations may be made to the Newark Day Nursery Scholarship Fund, 921 Barksdale Rd., Newark, DE 19711.
To leave online condolences, click here.