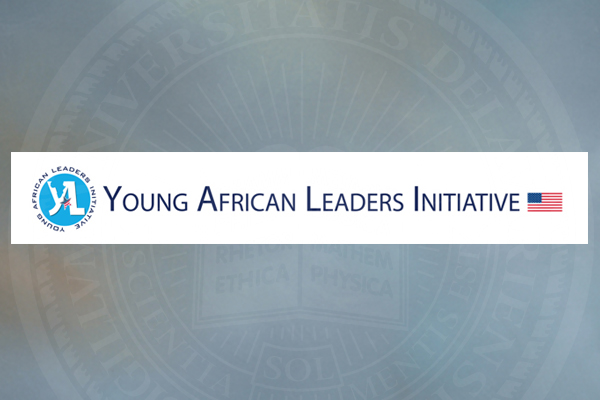 African leaders
UD hosts President Obama's Washington Fellowship for Young African Leaders
11:18 a.m., May 23, 2014--The University of Delaware has been selected as a host institution for President Barack Obama's Washington Fellowship for Young African Leaders, the flagship program of the  Young African Leaders Initiative (YALI).
The Washington Fellowship will empower young African leaders through academic coursework, leadership training, mentoring, networking, professional opportunities, and support for activities in their communities.
Fulbright awards
Three University of Delaware students and an alumna have received word this spring that they will travel abroad as part of the newest class of Fulbright Student Program award winners.
Peace Corps plans
Two University of Delaware students, John McCarron and Bridgette Spritz, have been selected as Peace Corps volunteers and will serve in Ghana and Rwanda.
Beginning in June, 25 competitively selected young Africans will participate in a six-week academic institute on civic leadership at the University, part of the larger group of 500 Washington Fellows being hosted across the United States this summer. 
Participants in the Washington Fellowship are young leaders from Sub-Saharan Africa who have a proven record of accomplishment in promoting innovation and positive change in their organizations, institutions, or communities. 
Obama announced the Washington Fellowship in South Africa in 2013 and emphasized the importance of Africa's youth, saying, "We need young Africans who are standing up and making things happen not only in their own countries but around the world… Africa's future belongs to its young people." In July 2014, the president will host a summit for the fellows in Washington, D.C. 
The University of Delaware was chosen by the Department of State's Bureau of Educational and Cultural Affairs (ECA) through a competitive process to be one of 20 selected Washington Fellowship host institutions that represent the excellence and diversity of U.S. higher education. The institute hosts include public and private institutions, Historically Black Colleges and Universities and Hispanic Serving institutions, large universities in big cities and small colleges in rural towns, and are located throughout the United States.
Working closely with ECA and its cooperating agency, the International Research and Exchanges Board (IREX), host institutions have designed six-week academic programs that will challenge, inspire, and empower the Washington Fellows.
The 25 fellows represent 19 different countries including: Burundi, Cameroon, Comoros, Côte d'Ivoire, Democratic Republic of Congo, Ethiopia, Kenya, Lesotho, Mauritius, Nigeria, Rwanda, Senegal, Sierra Leone, Somalia, South Africa, Swaziland, Uganda, Zambia, and Zimbabwe.
The summer institute at UD will focus on civic leadership. Academic sessions will provide fellows with insights into good governance, political organizing and advocacy, diverse roles of the media, and civil society-business relations in the U.S., keeping the African context in mind. 
Fellows will receive leadership skills training including managing non-profit organizations, and digital citizenship, activism and social media for non-governmental organizations. Some highlights of the program include meetings with U.S. Chris Coons and Gov. Jack Markell, and site visits with local advocacy organizations. 
The fellows will also participate in community service and cultural activities including an Independence Day Festival, tour of the Liberty Bell and Constitution Hall in Philadelphia, and trips to New York City and Rehoboth.  
The program will be implemented by the Institute for Global Studies as a component of the UD-Africa Initiative.
Gretchen Bauer, chair of the Department of Political Science and International Relations, is the academic director, and Colin Miller, programs manager for UD-Africa Initiative, is the program manager of the summer institute.
The Washington Fellowship will bring 500 of Africa's most promising young leaders aged 25 to 35 to top U.S. universities for academic and leadership institute in one of three areas: business and entrepreneurship, civic leadership, or public management. Fellows will also come together in Washington, D.C., in late July for a Presidential Summit.
A select group of 100 fellows will remain in the U.S. after the Presidential Summit for an eight-week internship experience at a relevant American business, NGO, or government agency.
The Washington Fellowship includes robust programming in Africa, including networking opportunities, continued professional development, and access to seed funding. For more information about the Washington Fellowship, visit the website. The Washington Fellowship for Young African Leaders is a U.S. government program that is supported in its implementation by IREX.
About IGS
The Institute for Global Studies was created in 2009 to enhance the international dimensions of teaching, research and outreach at the University of Delaware. IGS provides leadership and support for programs and experiences that contribute to the education of informed, skilled, open-minded citizens of the world. 
Best known for coordinating the University's study abroad program, IGS also awards scholarships and grants to faculty and students for global travel and research, administers internationally-recognized programs such as the MEPI (Middle East Partnership Initiative) Student Leaders Institute, and sponsors such signature events as International Education Week each fall and country-specific celebrations each spring. 
IGS also partners with other global partners on campus, including the Office for International Students and Scholars, the Confucius Institute and the Center for Global and Area Studies.