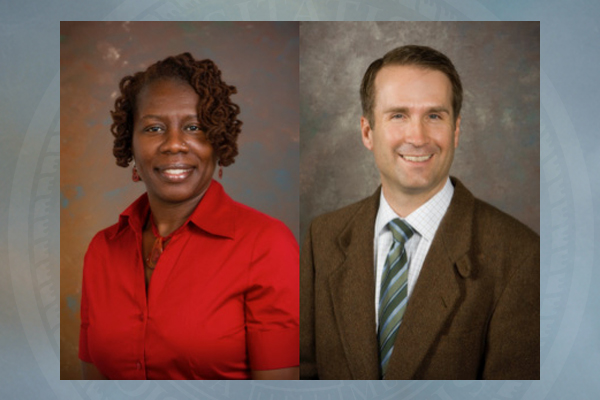 New vice provosts
Two professors named to leadership posts
4:03 p.m., May 27, 2014--Two University of Delaware professors will assume new senior leadership posts, effective July 1, Provost Domenico Grasso announced today.
Carol Henderson, chairperson of the Department of Black American Studies and professor of Black American studies and English, will become vice provost for diversity, and Matt Kinservik, associate dean of the College of Arts and Sciences and professor of English, will serve as vice provost for faculty affairs.
'Resilience Engineering'
The University of Delaware's Nii Attoh-Okine recently published a new book with Cambridge University Press, "Resilience Engineering: Models and Analysis."
Reviresco June run
UD ROTC cadets will run from New York City to Miami this month to raise awareness about veterans' affairs.
In November 2013, Grasso announced the creation of a new position of vice provost for faculty affairs and diversity, named Margaret L. Andersen, the Edward F. and Elizabeth Goodman Rosenberg Professor of Sociology, to serve as interim vice provost and appointed a search committee to identify a permanent candidate. 
The search committee, chaired by James Richards, vice provost for graduate and professional education, in the course of its deliberations, suggested that the University would be best served by establishing two distinct positions instead of one. Given the importance of the University's commitment to enhancing diversity, the committee recommended that creating a separate position would strengthen this vital work.  
"I agreed with the assessment of the search committee," Grasso said. "Happily, there were two excellent candidates to fill these positions who will be working closely together. I am confident that Dr. Henderson and Dr. Kinservik will advance our efforts to recruit and retain the best faculty and to ensure that ours is a welcoming and supportive environment for all. Both are established scholars with long records of service to this University, and they are widely respected by their colleagues across the campus.
"Carol Henderson's distinguished reputation as a teacher and administrator is matched by her commitment to issues of diversity and inclusion," he said. "Given her research interests in race, gender and sexuality and her history of service to this institution, as well as organizations beyond campus, Carol is the ideal candidate to fill this new position.
"Matt Kinservik's past leadership positions in the College of Arts and Sciences and in the Department of English give him the perfect background and perspective for this new post," Grasso said. "As someone who has demonstrated a focus on faculty excellence and who is playing an important role in the University's Strategic Planning Initiative, Matt is well-suited to this new role. 
"I am grateful to Jim Richards and the search committee members for their thorough and careful evaluation of the candidates and for their thoughtful input on redefining the position," he added. 
"Finally, my sincere thanks to Maggie Andersen for her service as interim vice provost for faculty affairs and diversity," Grasso said. "Her leadership in this role and her counsel to me have been invaluable."
Vice provost for diversity
The vice provost for diversity is charged with advancing the University's academic mission and goals in the areas of diversity, equity, inclusion and human rights by leading efforts to define, assess and cultivate diversity as both an institutional value and an academic priority. Henderson, who will serve as senior advisor to the provost on matters of diversity, will advise and collaborate with vice provosts, vice presidents, academic deans, chairs, directors, and other groups regarding the development and implementation of initiatives designed to support UD's diversity efforts.  She will also develop, direct and support initiatives that promote a welcoming and inclusive campus climate.
"I am very well aware of the Middle States Report and the recommendations made by the Diversity Task Force Report in 2009.  I look forward to working with senior leaders and leadership groups, building on these recommendations, re-engineering some, and creating new initiatives that will advance UD's academic mission and goals as they relate to diversity, equity, inclusion and community engagement," Henderson said. "This is a great opportunity for Delaware to promote these efforts through innovative and holistic strategies. This office is committed to advancing these strategies in productive and effective ways."
Vice provost for faculty affairs
The vice provost for faculty affairs works to ensure that the University recruits, nurtures,  and retains highly quality faculty and advises the provost on such matters as promotion and tenure, grievances, conflicts of interest and other academic personnel matters. Kinservik will assist academic departments in implementing excellent recruitment and mentoring practices and will work closely with the Faculty Senate in development of faculty policies. In addition, he will oversee faculty development initiatives, including resources for new faculty. 
"Everything we do at UD depends upon excellence in our faculty, so the vice provost for faculty affairs has significant responsibility for making sure that we effectively recruit, develop, promote, and retain the very best faculty," Kinservik said. "One of the great pleasures of doing administrative work is that I have the opportunity to meet so many colleagues from across the campus and learn about the work that motivates them and that inspires their students. 
"I feel very fortunate to have been at UD for the past 17 years. I have found it always to be a welcoming and supportive campus environment. We have a reputation for collegiality and excellence, and I hope that as vice provost for faculty affairs, I'm able to help us maintain and enhance that reputation."
Carol E. Henderson 
Henderson, who joined the UD faculty in 1995, is the author of a number of books and essays on the representations of race, gender, and sexuality in print and visual culture. 
At UD, she has served on the Diversity and Equity Commission, the African Heritage Caucus, the Commission for the Status of Women, the College of Arts and Sciences' Recruitment and Retention Advisory Committee, which she chaired, the Ronald McNair Advisory Board, and the Arts and Humanities Summer Institute Advisory Committee. 
Her honors include the Excellence in Teaching Award, an Excellence in Teaching award from the College of Arts and Sciences, and recognition for her commitment to diversity by Residence Life and the Diversity and Equity Commission, as well as acknowledgment of her mentorship of students by the Student Athletic Association and the Center for Black Culture. She also has been recognized by the National Society of Collegiate Scholars, Morgan State University, the Middle Atlantic Writers Association and several community service organizations. 
Henderson is the author of Scarring the Black Body: Race and Representation in African American Literature, and editor of Imagining the Black Female Body: Reconciling Image in Print and Visual Culture, America and the Black Body: Identity Politics in Print and Visual Culture, and James Baldwin's Go Tell It on the Mountain: Historical and Critical Essays. 
A graduate of the University of California, Los Angeles, she earned her master's degree from California State University, Dominguez Hills, and her doctoral degree from the University of California, Riverside. 
Matt Kinservik
Kinservik came to UD in 1997 as an assistant professor of English, specializing in 18th-century British literature. His scholarship focuses on theatre history, censorship, and the history of sexuality.  He was promoted to associate professor in 2002 and to professor in 2007.  
Beginning in 2004 he has served in a number of administrative roles, including director of graduate studies and chair of the Department of English and, since 2011, associate dean for the humanities in the College of Arts and Sciences.  
A member of the Path to Prominence Strategic Planning Committee, Kinservik currently co-chairs the new Strategic Planning Initiative's Working Group on "Models for the New American Research University."  He has served on the executive committee of the Winterthur Program in American Material Culture and on the board of the University of Delaware Press. 
His books include Sex, Scandal and Celebrity in Late 18th-Century England and Disciplining Satire: The Censorship of Satiric Comedy on the 18th-Century London Stage.
Kinservik holds a bachelor's degree in English and political science and a master's degree in English from the University of Wisconsin Madison, and a doctorate in English from Penn State University.
Search committee
Serving on the search committee with Richards were Nicole Donofrio, associate professor of plant and soil sciences; Tiffany Gill, associate professor of Black American studies; Abraham Lenhoff, chairperson of the Department of Chemical and Biomolecular Engineering; Gerald Turkel, professor of sociology; and Fred DeMicco, ARAMARK Chair in Hotel, Restaurant and Institutional Management.