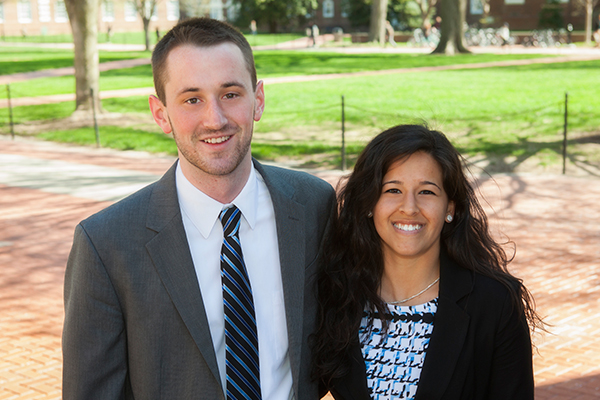 Stellar seniors
Seniors Leonard and Gerry recognized with UDAA's Taylor, Warner awards
10:22 a.m., May 2, 2014--University of Delaware seniors Ryan Leonard and Brielle Gerry have been selected as the recipients of the Alexander J. Taylor Sr. and Emalea Pusey Warner awards, respectively, as the outstanding man and woman of the 2014 graduating class.
The awards are given annually by the UD Alumni Association to recognize seniors, a man and woman, who most exemplify leadership, academic success and community service.
National Medal of Science
President Barack Obama recently presented the National Medal of Science to University of Delaware alumnus Rakesh Jain.
Warren Award
Rosalind Johnson, assistant dean for student success in the NUCLEUS Program in UD's College of Arts and Sciences, was presented the John Warren Excellence in Leadership and Service Award during a May 26 ceremony.
Brielle Gerry
Emalea Pusey Warner Award recipient Brielle Gerry, of Hillsborough, New Jersey, is an Honors Program student and double major in neuroscience and Spanish studies with a minor in applied music in piano and biological sciences.
Her areas of academic interest include participating in under graduate research since her sophomore year and studying the effects of fetal alcohol syndrome in the laboratory of Anna Klintsova, associate professor of psychology. She is a Writing Fellow assigned to Honors colloquia and research assistant in the Infant Caregiver Laboratory.
Gerry, who holds a 3.87 grade point average (GPA), has earned the General Honors Award, which recognizes Honors coursework completed in the first two years at the University. She served as an Honors Peer Advisor, helping welcome and orients over 400 Honors freshman. She has served as a Russell Fellow, a Blue Hen Ambassador, a Student Alumni Ambassador and a tutor with the NUCLEUS program, and is a talented and dedicated pianist.
President of the co-ed premedical fraternity Phi Delta Epsilon, she helped rebuild the chapter by fundraising and increased member participation. In February the fraternity received a Chapter Excellence Award for those efforts. Other awards include University of Delaware Woman of Promise, University Honors Enrichment Award and University Student of Distinction. She also is a Dean's List student.
Kristin Bennighoff, senior associate director with the Honors Program who nominated Gerry, wrote, "Brie Gerry continues the tradition of strong women like Mrs. Warner -- women who are leaders at the University of Delaware and in the community."
Susan McKenna, associate professor of Spanish, said, "Brie is a rare example of the undergraduate student who excels at everything she does."
Ryan Leonard
Alexander J. Taylor Sr. Award Recipient Ryan Leonard, of Dover, Delaware, a Charles L. Hebner Memorial Scholarship recipient, will earn an Honors Degree this spring with majors in political science and history and a minor in Islamic studies with Arabic language. With his grade point average of 3.897, Leonard ranks in the top 4 percent in his class.
In addition, Leonard received a General Honors Award, which recognizes Honors coursework completed in the first two years at the University, an Honors Enrichment Award and an Alumni Enrichment Award, and was a Marshall Scholarship finalist. Leonard was selected as one of 63 Harry S. Truman Scholars; he is the 12th Truman Scholar from the University of Delaware since 1990 and the first since 2009.
He has made significant contributions to UD through his leadership in several organizations. One example is his revival of UD's Mock Trial chapter, which has been so successful that it was selected by the American Mock Trial Association to host its regional tournament this February.
Leonard has also been a leader in the Honors Program as a Writing Fellow, helping freshmen as a peer writing tutor. He is currently a Senior Writing Fellow, supervising 16 of his peers in the program.
He has been involved in Delaware politics since high school when he worked on the gubernatorial campaign of current Gov. Jack Markell. While at UD, he continued his work with Markell as a staff intern. 
Leonard's interests moved beyond state politics to the Middle East after a UD study abroad trip to Tunisia. This past summer, he traveled to Amman, Jordan, to work as the first-ever intern for a start-up non-governmental organization (NGO) called Think Unlimited.
Bennighoff, who nominated Leonard, said, "Ryan exemplifies the academic achievement, leadership, and service qualities worthy of Mr. Taylor and this prestigious award."
James Magee, Judge Hugh M. Morris Professor of Political Science and International Relations, wrote, "Ryan is that rare, humble, "honest-to-goodness" refined young man of unimpeachable integrity and character-and intelligence." 
About the awards
Alexander J. Taylor Sr. (1875-1940) entered Delaware College in 1889 and graduated in 1893 as class valedictorian, with a baccalaureate degree in civil engineering. Mr. Taylor was elected to the Board of Trustees in 1927, reelected in 1932 and again in 1938. He served on the Grounds and Buildings Committee and Executive Committee and was chairman of the Finance Committee.
Emalea Pusey Warner (1853-1948) is best remembered on the University of Delaware campus as a champion of education. In 1911, she became chairperson of the State Federation of Women's Clubs' Committee on Education and worked diligently toward the specific goal of establishing a state-supported women's college. In 1914, she was appointed chairperson of the Advisory Council of the Women's College and later became the first woman member of the Delaware College Board of Trustees. Both Warner Hall on the UD campus and Warner Elementary School in Wilmington are named in her honor.
The Warner Award was first given in 1950, while the Taylor award debuted in 1968.
Recipients are recognized with a $2,500 scholarship, are honored at a luncheon and lead the alumni delegates' procession at Commencement, which this year will be held Saturday, May 31, at Delaware Stadium.
About the UD Alumni Association
All University of Delaware graduates are automatically granted membership in the UD Alumni Association (UDAA) upon graduation and are inducted with a pinning ceremony at Commencement. The UDAA is proudly dedicated to engaging the entire alumni community by fostering a tradition of lifelong loyalty and commitment to the University.
The UDAA provides exceptional value and ongoing support to alumni worldwide by expanding benefits available to alumni, supporting regional and affinity club events, recognizing alumni and their accomplishments and more.
Photo by Ambre Alexander Payne