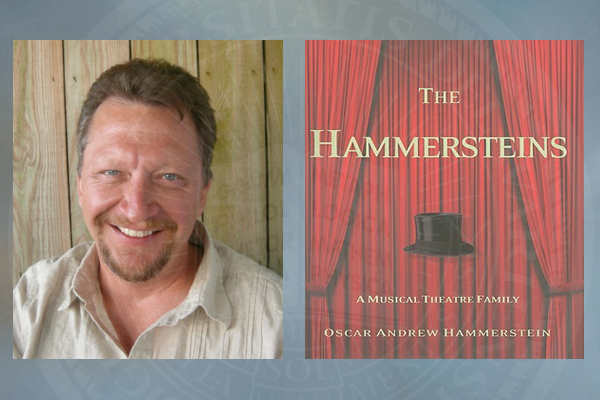 April 10: Andy Hammerstein to speak
Oscar Andrew Hammerstein III to speak at 2014 UDLA annual dinner
8:59 a.m., March 19, 2014--The 2014 annual dinner of the University of Delaware Library Associates will be held on Thursday, April 10, at Arsht Hall at the University of Delaware in Wilmington. The featured speaker will be Oscar Andrew (Andy) Hammerstein III, a writer, lecturer, painter and family historian who will speak about his book, The Hammersteins: A Musical Theatre Family. 
Hammerstein is the grandson of the famous lyricist Oscar Hammerstein II.
June 5: Blue Hen 5K
University of Delaware graduates planning to attend Alumni Weekend are encouraged to register for the annual Blue Hen 5K walk and run, which will be held Sunday morning, June 5.
June 6-9: Food and culture series
The 20th annual June Lecture Series at the Osher Lifelong Learning Institute at UD in Wilmington will be held June 6-9. Titled 'June a la Carte,' this year's program focuses on great political documents, feminism, world politics and a Newark cuisine sampler.
Hammerstein has devoted much of his life to studying and preserving his family's heritage and its contribution to American culture, especially on the Hammerstein family's significant role in the development of theatre and popular entertainment in the United States from the 1860s to the present. 
The Hammersteins is the story of one of Broadway's most creative and productive families.
The evening of April 10 will begin with a hospitality hour starting at 6 p.m., followed by the dinner and program at 7 p.m. 
Songs with lyrics written by Oscar Hammerstein II will be played softly on the piano during the hospitality hour by Michael A. Arenson of UD's Department of Music. 
Dinner prices are $120 per person for members of the University of Delaware Library Associates. Guests will be $165 per person for non-members, which includes a first-year membership in the organization. The event is open to the public with a paid dinner reservation. The printed invitation was mailed to members of the UD Library Associates and others in late February.
To request a printed invitation, interested persons may contact the Office of the Vice Provost by sending an email message to UDLA@udel.edu or by calling 302-831-2231 and providing a full name and first class mailing address.
Photo by Ron Rinaldi