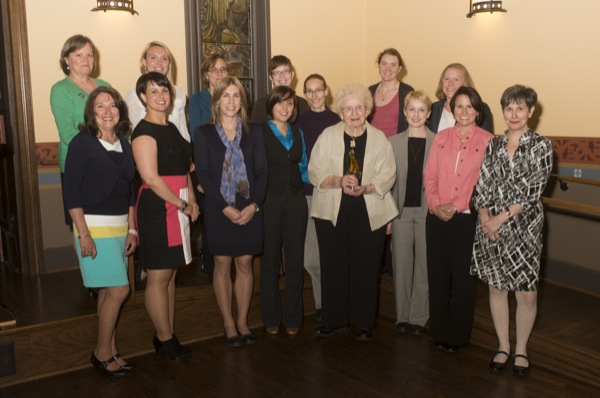 Torch Award
UD Women's Caucus announces 2014 Torch Award recipient
12:28 p.m., March 26, 2014--The University of Delaware Women's Caucus has chosen L. Pamela Cook, Unidel Professor of Mathematical Sciences and associate dean of engineering, as this year's recipient of its Torch Award.
The award, presented annually, recognizes people who have "carried the torch for women's equality" at the University of Delaware.
National Medal of Science
President Barack Obama recently presented the National Medal of Science to University of Delaware alumnus Rakesh Jain.
Warren Award
Rosalind Johnson, assistant dean for student success in the NUCLEUS Program in UD's College of Arts and Sciences, was presented the John Warren Excellence in Leadership and Service Award during a May 26 ceremony.
The torch recalls the lighting of a torch for the 1977 National Women's Conference, symbolically charting a course between the first Women's Rights Convention of 1848 and the modern movement for women's liberation. It was selected by the caucus to represent the past and present efforts to achieve equality and improve the quality of employment for women at UD.
Cook is being recognized for her unparalleled commitment to women, especially in the science, technology, engineering and mathematics (STEM) disciplines.
As a co-principal investigator on UD's National Science Foundation ADVANCE PAID award, she has directed efforts to improve the recruitment and retention of women faculty in STEM departments. She leads UD's Women in Engineering program, which supports female graduate students and faculty through workshops, guest speakers, networking opportunities and mentoring. 
Since she became associate dean of engineering in 2002, the College of Engineering's female faculty representation has increased from 4.5 percent to 16.6 percent. Under her leadership the College of Engineering received funds to establish two junior chaired professorships for women, the Mills Chair and the Clare Boothe Luce Assistant Professorship.
Cook served as chair of UD's Commission on the Status of Women for six years. She received the 2012 University Change Agent Award from the Women in Engineering ProActive Network (WEPAN) and the 2009 University of Delaware Trabant Award for Women's Equity for her efforts on behalf of women at UD.
The Torch Award will be presented during the Women's Caucus spring social gathering to be held on Thursday, May 1, from 4-6 p.m. at 44 Kent Way. All members of the University community are invited to attend.
More information about the Women's Caucus can be found at this website or by emailing womenscaucus@udel.edu. 
Photo by Duane Perry