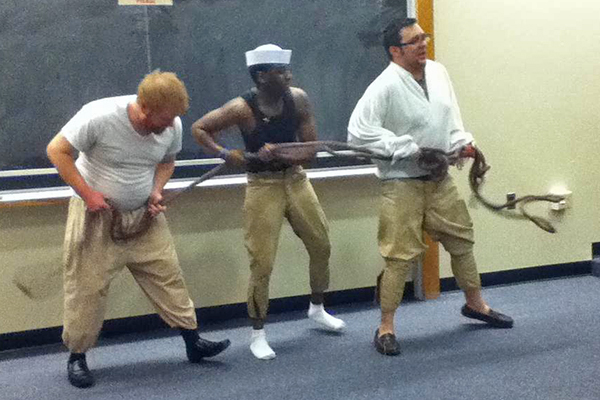 Authentic Shakespeare
Senior presents 'original staging' production of 'The Tempest'
11:45 a.m., March 19, 2014--Most modern productions of William Shakespeare's works are presented with the painstaking effort and grandiose loftiness that accompanies the name of such an acclaimed writer. 
However, University of Delaware senior Honors Program student Angel VanBennekom argues that during Shakespeare's time, his plays were performed for audiences that would have seemed "more like raucous spectators at a sporting event rather than polite modern theatregoers."
From graduates, faculty
As it neared time for the processional to open the University of Delaware Commencement ceremonies, graduating students and faculty members shared their feelings about what the event means to them.
Doctoral hooding
It was a day of triumph, cheers and collective relief as more than 160 students from 21 nations participated in the University of Delaware's Doctoral Hooding Convocation held Friday morning on The Green.
Beginning March 23, VanBennekom and a troupe of actors comprised of UD students, alumni and community members look to recreate that atmosphere with performances of Shakespeare's The Tempest at a number of diverse locations on campus. 
VenBennekom, an English major with minors in theatre studies and interactive media, has conducted extensive research into early modern theatre staging techniques, or "original staging." An original staging production presents a play with the utmost loyalty to how audiences would have seen it when it debuted. 
While applying original staging to The Tempest, VanBennekom highlights Shakespeare's use of music, double-casting, cross-gender casting and variability or change during the performance. 
"This project is the definition of discovery learning," she says. "We're using what I've learned through research to discover a new style of performance, and then share that with the UD community."
Performance times and locations for The Tempest are as follows:
Sunday, March 23, at 3:30 p.m. and 6:30 p.m. in the Trabant University Center Food Court; 
Monday, March 24, at 8 p.m. in the Scrounge in the Perkins Student Center;
Tuesday, March 25, at 6 p.m. in Pencader Dining Hall; and
Wednesday, March 26, at 8 p.m. in the Gore Recital Hall, Roselle Center for the Arts. 
All performances are free of charge and audience members are encouraged to bring friends to the show. In the spirit of original staging, performances are highly interactive. 
"Our audiences aren't used to reacting freely during performances," VanBennekom says, "but our actors are using lots of different techniques to get them out of their shells." 
'The Tempest'
One of Shakespeare's shortest and most fast-paced plays, The Tempest opens on a ship full of sailors and royals sinking in the middle of an impossibly violent storm. Somehow, all those on board survive the wreck and wash up on a seemingly deserted island. 
The audience quickly learns that someone with magic powers caused the storm in the name of revenge on some of the ship's passengers. With a cast of characters who are both hilarious and touching, Shakespeare asks the audience to consider the importance of laughter, life and love in this classic comedy. 
Article and photo by Claire Davanzo