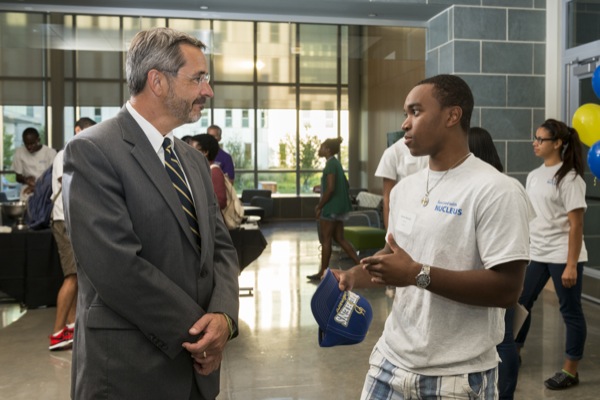 Science Café
Provost Grasso to open spring Science Café series
9:11 a.m., March 6, 2014--University of Delaware Provost Domenico Grasso will open the spring semester Science Café series with a presentation at 5:30 p.m., Monday, March 10, at the Deer Park Tavern on Main Street in Newark.
Grasso, who is also a professor of civil and environmental engineering at UD, will speak on the topic "The Future Ain't What It Used To Be."
Chronic wounds
UD's Millicent Sullivan and Kristi Kiick have received a $1.4 million grant from the National Institutes of Health for research that could provide a new approach to the treatment of chronic wounds.
Prof. Heck's legacy
The American Chemical Society is highlighting the legacy of the late Nobel laureate Richard Heck, the Willis F. Harrington Professor Emeritus of Chemistry at the University of Delaware with a digital tribute on its publications website.
Science Café is sponsored by the UD Department of Philosophy and Delaware National Science Foundation Experimental Program to Stimulate Competitive Research (EPSCoR) program. Presentations are free and open to the public and food and beverages will be served.
"One purpose of these events is to bring together faculty, students, and members of the community to talk about science and technology, and to learn from one another," said Tom Powers, associate professor and director of UD's Center for Science, Ethics and Public Policy and organizer of the series.
Powers added, "The casual setting helps. People seem to feel more comfortable, and often a give-and-take dialogue ensues. Science Café is just one instance of this kind of community dialogue. We could have an Ethics Café, or a Literature Café, you name it. The key is to lower the barriers to participation and contribution, without lowering the level of intellectual content. In fact, from my experience, some of the most important issues in science, technology, and society come out in settings like this one."
The spring series will continue as follows, with all sessions beginning at 5:30 at the Deer Park:
March 24: Sue Barton, associate professor and Cooperative Extension specialist, Department of Plant and Soil Sciences, "Changing the Suburban Landscape Paradigm."
April 14: Mike Klein, director of the UD Energy Institute and the Dan Rich Chair of Energy in the Department of Chemical and Biomolecular Engineering, "Making Decisions about Energy Alternatives."
May 5: Robin Morgan, professor, Department of Animal and Food Sciences and Delaware Biotechnology Institute, "Agriculture in Delaware and Beyond: Perennial Possibilities."