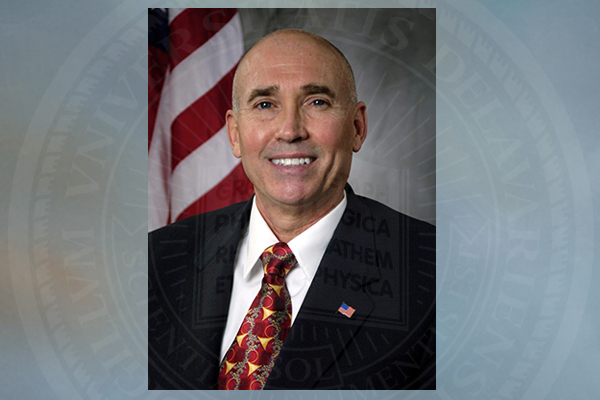 Advancing education and research
UD hires national defense expert Starnes Walker to lead new cybersecurity initiative
11:05 a.m., March 18, 2014--The new University of Delaware Cybersecurity Initiative (UDCSI), with a special emphasis on issues facing corporate America, has named a leading national expert as the founding director. 
Starnes E. Walker, a physicist with 35 years of leadership experience in research, development and engineering to enhance national security, will take the helm of the new initiative, effective April 1. 
'Resilience Engineering'
The University of Delaware's Nii Attoh-Okine recently published a new book with Cambridge University Press, "Resilience Engineering: Models and Analysis."
Reviresco June run
UD ROTC cadets will run from New York City to Miami this month to raise awareness about veterans' affairs.
Walker has held senior management positions in the U.S. Departments of Defense, Energy and Homeland Security, as well as industry. He has developed critical programs and aligned strategic systems across the U.S. and around the globe, forging key partnerships with the United Kingdom, Australia, Singapore, Israel, Sweden, the European Union and NATO. 
A key focus of Walker's appointment at UDCSI will be corporate cybersecurity. According to a 2012 survey of more than 9,600 global business executives by PricewaterhouseCoopers (PwC), CIO and CSO, more than 41 percent of U.S. respondents had experienced one or more security incidents during the past year, ranging from financial losses to intellectual property theft. 
"With Dr. Walker's appointment as founding director of our Cybersecurity Initiative, the University of Delaware gains exceptional expertise in an area of urgent concern," said University Provost Domenico Grasso. "Under Dr. Walker's leadership, UD will develop new partnerships to advance cybersecurity education and research and create prominent academic programs at the undergraduate and graduate levels, as well as certificate programs for corporate and government professionals."
"I am honored to join the University of Delaware and to have this opportunity to help prepare the next generation of leaders who will protect the U.S. against cyber attacks," Walker said. "UD's new Cybersecurity Initiative is going to be an all-around 'win'—for the University, for the State of Delaware, for the nation and for all of the businesses incorporated here and beyond, from the financial sector to the energy sector, and absolutely, for the public."
Defending the United States from cyber attacks requires highly trained specialists who can design secure computing systems, write secure computer code and create tools to protect, detect and recover from malicious acts, Walker said. The need is immediate, and the stakes are high.
"As just one example, sophisticated industrial control systems (ICS) known as supervisory control and data acquisition (SCADA) systems control plant processes and pipelines of America's energy sector," Walker said. "If these vulnerable systems were breached in a cyber attack, the consequences would be far-reaching."
National cyber workforce shortage
The United States has a serious cyber workforce shortage, with only 1,000 skilled specialists in the field when the nation needs as many as 30,000, according to James Gosler, founding director of the CIA's Clandestine Information Technology Office. 
"Whether it's the customer information held by retailers or personal details held by area banks, we increasingly rely on cybersecurity innovation and a skilled cyber workforce to protect our people and our economy," said Delaware Gov. Jack Markell. "The University of Delaware's initiative is an important part of the Delaware Cyber Initiative we announced in January and, together with efforts by Delaware State, Delaware Tech and even the Delaware National Guard, will help ensure that our networks are secure while creating job opportunities for our workers in an expanding industry."
Cybersecurity is a top priority of the Senate Committee on Homeland Security and Governmental Affairs, which U.S. Sen. Tom Carper, from Delaware, chairs. 
"President Obama has declared cyber-threat as one of the most serious economic and national security challenges we face as a nation," Carper said. "Now more than ever, we need the best and brightest students to help secure our nation's cyberspace and to protect Americans. I applaud the University of Delaware for its leadership in establishing this new initiative and for appointing Starnes Walker, a national expert, to direct it."
Among his top goals for the initiative, Walker said, will be to develop problem-based and experiential learning programs, areas in which UD has been a pioneer, and to develop cybersecurity activities in partnership with colleges and departments across campus and with corporations and government entities.
Michael Hayden, retired U.S. Air Force four-star general and former director of the National Security Agency and of the Central Intelligence Agency, commented: "Starnes Walker understands what it takes to defend a nation against cyber-threats. Cyber attackers are growing increasingly more sophisticated, now becoming more interested in taking out entire systems instead of just compromising data. Academia, through initiatives such as the University of Delaware's, will play an important role in developing solutions for shoring up the nation's cyber-defense." 
Starnes Walker
Walker formerly served as the chief technology officer and technical director for the U.S. Fleet Cyber Command and U.S. 10th Fleet, U.S. Navy. His previous senior executive positions include director of research for the Department of Homeland Security, technical director and chief scientist at the Department of Navy's Office of Naval Research, associate laboratory director at Argonne National Laboratory and senior advisor for science and technology at the Defense Threat Reduction Agency. 
His earlier industry posts included Morrison Knudsen's vice president of technology and Phillips Petroleum's corporate environmental director. During his tenure at Phillips, he advanced to the top of the senior technical ladder becoming a senior research associate focusing on energy programs ranging from refining/petrochemical process operations, solar, nuclear, advanced energy minerals and biotechnology with The Salk Institute. Walker initiated and led the General Atomics and Phillips joint program in nuclear fusion to become a prominent national program working with Idaho National Laboratory and Los Alamos National Laboratory. He started as a physicist at the Naval Weapons Center-China Lake.
Walker was the first chairman of the Joint Laboratory Board of the Joint Improvised Explosive Devices Defeat Organization (JIEDDO) and a member of the DSB Future Strategic Strike Systems Summer Study for STRATCOM. He is chairman of the Engineering Development Board-Missouri University of Science and Technology and serves as a member of The Aspen Institute's Homeland Security Group, the Global Policy Research Institute at Purdue University, Oak Ridge National Laboratory's Strategic Advisory Group Board and the U.S. Air Force Cyber Vision 2025 Senior Expert Review.  Most recently he was elected as a Member of The National Academies Intelligence Board and Air Force Studies Board. Previously, he served as science advisor to Lawrence Livermore National Laboratory and Los Alamos National Laboratory and as program manager at the Idaho National Engineering Laboratory.
Formerly a Navy Fellow, Walker is a member of the American Physical Society, American Nuclear Society and the Cosmos Club. He holds B.S., M.S. and Ph.D. degrees in physics from the University of California-Riverside and an honorary degree in Nuclear Engineering from the University of Missouri-Rolla.
UDCSI will complement a regional cybersecurity education initiative funded through a research grant from the National Science Foundation to the University of Delaware in 2012.  Key partners in that project include Delaware Technical Community College and Harford Community College, which will establish integrated educational and outreach programs in partnership with UD and leading government and industrial partners, including the Army Research, Development and Electronics Command, the Science Applications International Corporation and JPMorgan Chase.
Article by Tracey Bryant