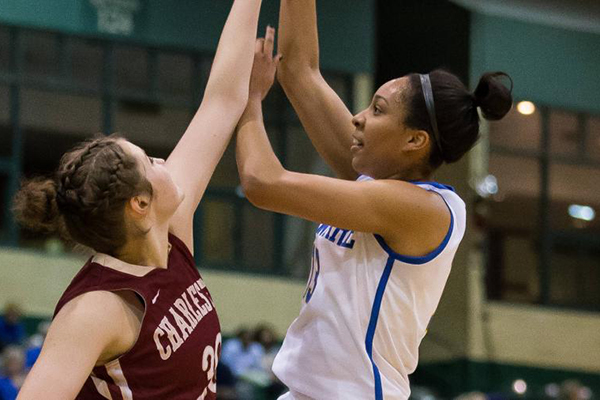 Hens to play for CAA title
UD to face James Madison for CAA women's basketball championship
4:54 p.m., March 15, 2014--The University of Delaware will face James Madison University for the Colonial Athletic Association women's basketball championship at noon Sunday, March 16, at the Show Place Arena in Upper Marlboro, Md.
Sunday's game will be the fourth consecutive CAA championship game in which the Hens have appeared. UD won the last two conference titles.
Rower honored
University of Delaware junior Claire Brown has been named second team Collegiate Rowing Coaches Association All-Region.
Unsung Hero
The One Love Foundation has announced that University of Delaware men's lacrosse standout Elijah Conte has been selected as a winner of the 2016 YRL Unsung Hero Award.
The second-seeded Blue Hens advanced to the championship game with a 60-52 semifinal victory over the College of Charleston on Saturday afternoon. UD is now 20-9 on the season as the team prepares to face top-seeded JMU.
UD senior Kelsey Buchanan set a new program CAA tournament record Saturday with 19 rebounds against Charleston, besting Chrissy Fisher's mark of 14 set against Northeastern on March 9, 2006. Additionally, as a team, the Blue Hens collected 60 rebounds to overtake the previous record of 51 tallied against Drexel on March 7, 2002.
In addition to the 19 rebounds, Buchanan also scored 14 points and had five assists.
Sophomore guard Courtni Green scored nine of her 15 points in the second half and added four rebounds and four assists. Fellow sophomore Joy Caracciolo had seven points and 11 rebounds.
"First I'd like to congratulate the College of Charleston," UD head coach Tina Martin said. "In their first year in the league, they have certainly made a statement. I thought their seniors played really well and I was really impressed with them all year. Their size and veteran leadership makes them a difficult team to play. Obviously, today was a very hard fought game. Defensively, we played the best we have in weeks. It was our defense that won the game for us today."
Discussing UD's youth, Martin said, "This team has come so far this season. We're so young and I'm so proud of these kids as they've grown so much in the past few months. Nobody thought Delaware would be sitting in this position right now. We've climbed the mountain all year long of people not believing in us and now we have a job to finish."
For complete coverage, see BlueHens.com.
Photo by Mark Campbell