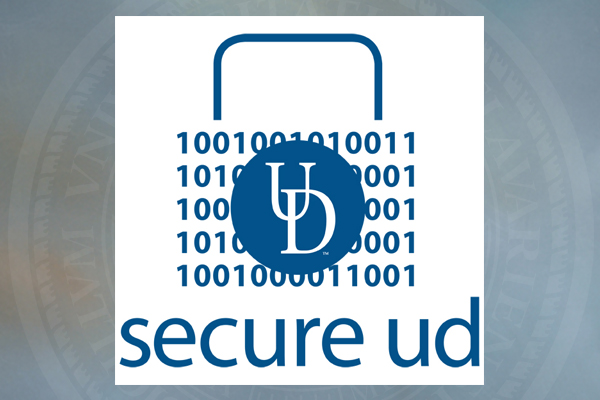 Secure UD initiative
Secure UD training to be rolled out to employees beginning June 16
1:35 p.m., June 3, 2014--Computer technology is constantly evolving. But as technology develops, so, too, do ways to exploit it. Hackers are getting more proficient. As people become more reliant on their computer accounts and data stored on computers, hackers are becoming more determined to steal and misuse that data.
To keep up with this developing information technology landscape, the University of Delaware will launch its Secure UD training program the week of June 16. 
June 6: UDid It! Picnic
All UD faculty and staff members are invited to attend the annual UDid It! employee appreciation picnic, set from 11 a.m.-1:30 p.m., Monday, June 6, on The Green.
2FA protects you
If you are using two-factor authentication (2FA), even if a hacker has your password, your information is probably safe.
This training program is part of the University's new Secure UD information security awareness initiative, designed to equip faculty and employees with the knowledge and resources they need to properly use and protect UD's data and other confidential information.
President Patrick Harker, Executive Vice President Scott Douglass, and Provost Domenico Grasso joined together in announcing their support for Secure UD. 
"I can't stress enough," said Harker, "how critical it is that we be vigilant in safeguarding our information. I'm confident that Secure UD will bring that vigilance to our community."
UD processes quite a lot of data. Student records, financial information, proprietary research and personal information are kept in UD's many systems – and all of that information needs to be protected.
That's where the Secure UD training program comes in. The training, which uses online video training modules, will be available to faculty and employees who have access to University information systems and resources. Participants will be automatically enrolled in training and will receive an email during the week of June 16 explaining how to log in to their Secure UD Virtual Learning Environment.
As part of the Secure UD initiative, and in preparation for Secure UD training, participants will be sent a quick 10-question Qualtrics survey this week. 
The survey will help the University gauge training progress and effectiveness. Participants are asked to complete this survey prior to Secure UD training, which will be released during the week of June 16.
For more information, visit the Secure UD Training website. And watch for email and UDaily updates the week of June 16.
Article by Alex Lindstrom
Graphic by Christian Derr