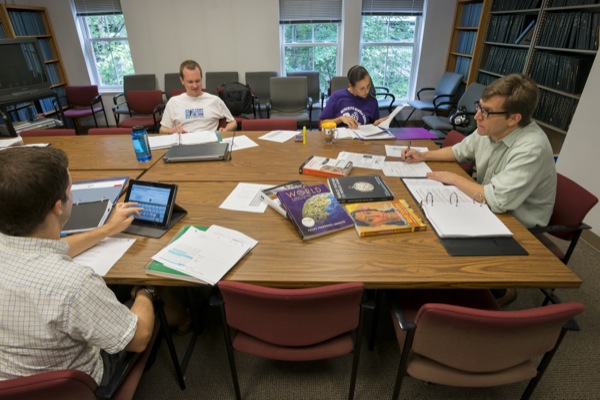 World history
New graduate program launched for social studies teachers
2:05 p.m., July 25, 2013--A new master's degree program at the University of Delaware offers a unique combination of classes in teaching methods, or pedagogy, and in world history and global studies content for certified social studies teachers.
"Graduate courses for practicing teachers often focus only on pedagogy, but in this program the students are enhancing their content knowledge of world history, which is often their first love," said Barry Joyce, associate professor of history and co-coordinator of social studies education in the College of Arts and Sciences. "You can't enhance a school curriculum just with pedagogy or just with content. That's why we wanted to offer both."
From graduates, faculty
As it neared time for the processional to open the University of Delaware Commencement ceremonies, graduating students and faculty members shared their feelings about what the event means to them.
Doctoral hooding
It was a day of triumph, cheers and collective relief as more than 160 students from 21 nations participated in the University of Delaware's Doctoral Hooding Convocation held Friday morning on The Green.
The first participants in the two-year master of arts in social studies in world history program began attending class this summer. With professional experience ranging from a few years to more than a decade, they teach in traditional and charter schools in five Delaware districts and one in nearby Maryland. Although the focus is world history, the program is designed to enhance teachers' knowledge in other areas of social studies as well, including civics, economics and geography.
Creators of the program said the instruction will be a hybrid of in-person classes, such as the one meeting now on the UD campus, and distance learning classes that will be offered online during the school year, to fit teachers' work schedules and to allow those who live or teach far from the University to participate.
"Our model is for the program to be completed in two [academic] years and a summer," said Hannah Kim, assistant professor of history and co-director of social studies education. "The potential for this program is truly global, and we've had interest from people internationally. Having a global perspective in teaching world history is incredibly valuable." 
Although none of the current students is international, the instructors are committed to providing that global perspective. A recent class meeting featured an hour-long conversation via Skype with a middle school teacher in Hiroshima, Japan. UD students asked questions on such topics as who determines the social studies curriculum in Japanese schools (there is a national curriculum, but classroom teachers choose their own supplementary materials); what academic preparation history teachers have (none specifically, but working teachers spend a great deal of time honing their skills and sharing ideas for improvement); and the prevalence of teacher unions (much lower membership rates in Japan than in the United States).
"We know that not everybody uses the same teaching styles, whether they're in Delaware or in Hiroshima," Darryl Flaherty, associate professor of history who led the class session, said in introducing the Skype conversation. Flaherty, who is bilingual in English and Japanese, also served as translator for the discussion.
As the session ended, the UD students and their Japanese counterpart all described themselves as fortunate to be teachers and to love their jobs — "a bond they all share," Joyce said later.
"This cohort of students have committed themselves to an intensive program, and they're all enthusiastic about teaching," Kim said. "Their approach is: How can I be a better teacher? That makes it really gratifying for us to be part of this program."
Article by Ann Manser
Photo by Evan Krape