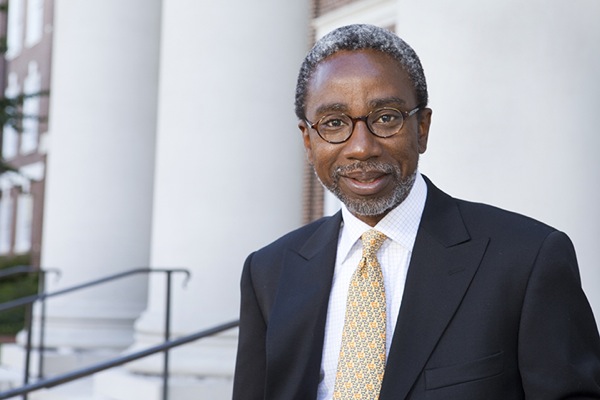 New engineering dean
Ogunnaike named dean of the College of Engineering effective July 1
1 p.m., July 1, 2013--Babatunde A. Ogunnaike, William L. Friend Chaired Professor of Chemical and Biomolecular Engineering at the University of Delaware, has been named dean of engineering following a nationwide search, UD President Patrick T. Harker announced today. The appointment is effective July 1. 
As dean, Ogunnaike will be responsible for the academic leadership of more than 130 faculty members in six departments with a total enrollment of over 3,000 undergraduate and graduate students. Additionally, the College of Engineering is home to a wide range of disciplines that support world-class programs and 14 research centers.
'Resilience Engineering'
The University of Delaware's Nii Attoh-Okine recently published a new book with Cambridge University Press, "Resilience Engineering: Models and Analysis."
Reviresco June run
UD ROTC cadets will run from New York City to Miami this month to raise awareness about veterans' affairs.
"I am honored to accept this leadership opportunity," Ogunnaike said. "This is a very important time in history for those of us charged with educating the next generation of engineers. With our dedicated and talented faculty and staff, we are well positioned to take our world-class engineering college to the next level. Together we can create a collaborative culture that will enable us to reach our goals side by side." 
Ogunnaike said his vision for the college includes a renewed commitment to excellence through strategic focus on three key engineering enterprises: research, education and entrepreneurship. He plans to increase the college's global reach, financial stability, diversity and engagement with alumni and the community. 
First and foremost is the challenge to revitalize the engineering education enterprise so that it prepares students effectively for the changing workforce of tomorrow. This initiative, he said, will enable college leadership and faculty to leverage cross-disciplinary course opportunities, innovative technology for course delivery and student entrepreneurship programs, such as the University's Horn Program in Entrepreneurship.
"Dr. Ogunnaike brings an impressive portfolio of skills to this leadership position," said UD President Patrick Harker. "His commitment to the profession of engineering and his dedication to his students are matched by a clear and well-articulated vision for the future of Delaware's College of Engineering."
"A member of our engineering faculty for more than 10 years, Tunde has an impressive record of commitment to this institution," Interim Provost Nancy Brickhouse said. "For the last two years, he has served ably as interim dean, demonstrating his abilities to lead a complex organization."
"I look forward to working with Dr. Ogunnaike as a member of our senior administrative team," said Domenico Grasso, who becomes UD's provost Aug. 15. "His academic accomplishments, global perspective and vision for the future of engineering education and research will serve us well as we work to move this University to the next stage of recognition and accomplishment."
Ogunnaike served the college as interim dean from 2011-13 and, during that time, worked to develop partnerships with other academic institutions and to strengthen community partnerships with such organizations as Bloom Energy, U.S. Army Research Laboratory, DuPont and JPMorgan Chase.
Among his accomplishments is UD's Global Educational Exchange Initiative (GLOBEX) with Peking University (PKU), known as China's Harvard. The GLOBEX initiative formalized educational exchange and research collaboration between UD's College of Engineering and PKU, allowing UD undergraduate students and faculty to conduct an intensive six-week summer program at PKU, while PKU undergraduate students spent a semester at UD. In addition, Ogunnaike recently led engineering faculty and leadership to renew the college's vision, mission and core values as part of a broader strategic planning process. 
About Babatunde A. Ogunnaike
Babatunde A. Ogunnaike joined the UD faculty in 2002 as a professor with appointments in the Department of Chemical Engineering (now the Department of Chemical and Biomolecular Engineering) and the Delaware Biotechnology Institute's Center for Systems Biology, after a 13-year research career with DuPont. 
He was appointed William L. Friend Professor of Chemical Engineering in 2004 and William L. Friend Chaired Professor in 2008. He became deputy dean for the College of Engineering in 2010 and interim dean of engineering in 2011.
Ogunnaike was elected to the National Academy of Engineering and the Nigerian Academy of Engineering in 2012.
After receiving a bachelor's degree in chemical engineering from the University of Lagos in Nigeria in 1976, he earned a master's degree in statistics and a doctorate in chemical engineering from the University of Wisconsin Madison in 1981.
Ogunnaike is the author or editor of four books and more than 75 papers and book chapters, and his textbooks have been used to educate and train engineers in instrumentation, systems and control at more than 29 universities.
The College of Engineering, with an enrollment of more than 3,000 undergraduate and graduate students, is home to six academic departments. In 2012, the faculty, numbering 133, included 32 named professors, four National Academy of Engineering members, 35 NSF Career Award-winners and 11 UD teaching award recipients. Total sponsored expenditures last year exceeded $55 million. 
About the search committee
The national search was chaired by Charles Riordan, vice provost for research. In addition to Riordan, the committee members included: Paul D. Amer, Alumni Distinguished Professor of Computer and Information Sciences; Nii O. Attoh-Okine, professor of civil and environmental engineering; Cole Galloway, professor of physical therapy; Javier Garcia-Frias, professor of electrical and computer engineering; John Gillespie, Donald C. Phillips Professor of Materials Science; Jill Higginson, associate professor of mechanical engineering; Terri Kelly, president and CEO of W.L. Gore and Associates, and a member of UD's Board of Trustees; April Kloxin, assistant professor of chemical and biomolecular engineering; Kelvin Lee, Gore Professor of Chemical and Biomolecular Engineering and director of the Delaware Biotechnology Institute; Darrin Pochan, professor of materials science and engineering; and Cathy Wu, Edward G. Jefferson Endowed Professor of Computer and Information Sciences.
Article by Karen B. Roberts
Photo by Ambre Alexander