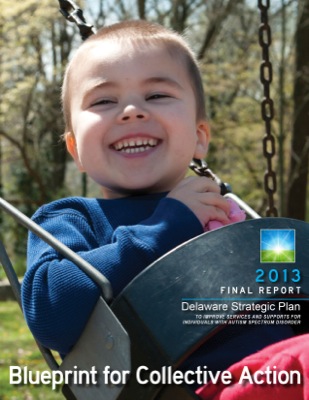 A better future
CDS assists with Delaware's strategic plan for autism spectrum disorder
1:07 p.m., July 29, 2013--One in 88 children has been identified with an autism spectrum disorder (ASD) throughout the United States. For parents and guardians who aren't familiar with ASD, receiving this diagnosis can lead to concern and confusion, raising questions about education, mental and physical health support and parenting.
Over the past two years, the University of Delaware's Center for Disabilities Studies (CDS) has collaborated with a number of organizations, professionals and family members in a statewide planning initiative to improve supports and services for people with ASD. 
From graduates, faculty
As it neared time for the processional to open the University of Delaware Commencement ceremonies, graduating students and faculty members shared their feelings about what the event means to them.
Doctoral hooding
It was a day of triumph, cheers and collective relief as more than 160 students from 21 nations participated in the University of Delaware's Doctoral Hooding Convocation held Friday morning on The Green.
As coordinator for the autism planning initiative, CDS staff member Annalisa Ekbladh brought together this large and diverse group to develop a comprehensive strategic plan for Delaware called the Blueprint for Collective Action, identifying areas in need of improvement and proposing solutions. 
During the plan's development, parents explained the significant challenges they face: 
Obtaining a diagnosis;
Navigating the health care system;
Ensuring access to adequate educational services;
Receiving vocational rehabilitation and employment opportunities; and
Coordinating the multiple service systems.
On July 15, more than 70 people gathered in Dover for the unveiling of the strategic plan.
Ekbladh and Jerry Petroff, associate director of the College of New Jersey's Center for Autism, presented key points from the plan, while Lt. Gov. Matthew Denn shared the recent accomplishments Delaware has made, including new developmental screening and professional development initiatives, and the introduction of a graduate program in speech pathology at UD.
Although other states have created similar plans, Delaware's plan is unique in its collaborative and hands-on approach, with a strong and deliberate emphasis on family participation. In addition to a statewide survey, the autism planning initiative conducted focus groups, a statewide summit and monthly workgroup meetings to pair the data with real life examples and situations.
"The Blueprint identifies the need to provide training for medical professionals and to identify children with autism sooner, and to develop a plan to help families understand and manage the diagnosis," Ekbladh said. "Then we have to find a way to coordinate all the available services to ensure these children receive appropriate health care, education and job training."
And this is now underway, according to Mary Ann Mieczkowski, director of exceptional children resources for the Delaware Department of Education. "This Blueprint is not just a strategic plan — it has come alive," she said.
The Blueprint is just the first step to ensuring that Delawareans with autism have the opportunity to live successful and satisfying lives. An Interagency Committee for Autism will guide the state's efforts to realize the vision expressed in the Blueprint and an autism resource center is proposed to provide the technical assistance and training for autism supports and services throughout the state.
As a parent of a child with autism, Kathleen Stomieroski shared her thoughts on the strategic plan, saying, "Because of the collaborations and continuous efforts from everyone involved, I now have hope for a better future for my son."
About the Center for Disabilities Studies
The Center for Disabilities Studies is one of many centers and programs at UD's College of Education and Human Development. 
CDS supports the well-being, inclusion and empowerment of people with disabilities and their families. 
For further information, visit the CDS website, email ud-cds@udel.edu or call 302-831-6974. The center also has a Facebook page with news and updates for Delawareans with disabilities.