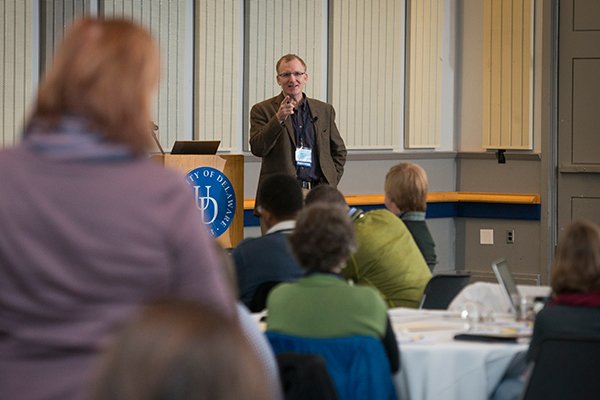 Winter Faculty Institute
Student engagement focus of UD's Winter Faculty Institute
1:21 p.m., Jan. 16, 2014--More than 170 participants attended the University of Delaware's Winter Faculty Institute either online or in person. The Jan. 9 event consisted of a keynote address by Bob Gonyea, a question and answer period and a number of general sessions about educational technologies presented by UD faculty.
As one participant wrote, "As always, great speakers, great topics. I especially like to hear about the big trends and interesting research happening in higher education teaching."
June 6: UDid It! Picnic
All UD faculty and staff members are invited to attend the annual UDid It! employee appreciation picnic, set from 11 a.m.-1:30 p.m., Monday, June 6, on The Green.
2FA protects you
If you are using two-factor authentication (2FA), even if a hacker has your password, your information is probably safe.
Another participant said, "I really enjoyed the teaching ideas that other faculty shared. A showcase of creative teaching solutions is, to me, a highlight of this ongoing program."
Keynote
Bob Gonyea, associate director of Indiana University Center for Postsecondary Research, discussed "The Use of Student Engagement Data in the Assessment of Liberal Learning." 
"Student engagement is the measurement of time and energy students devote to education and how they perceive different parts of the institutional environment that affect their learning. The more students are engaged, the more they gain. The effects are even greater for lower ability students and students of color," Gonyea said.
Gonyea presented an overview of the National Survey of Student Engagement (NSSE) tool, which is used by participating educational institutions to identify aspects of institutional practices that can be improved to engage students and enhance undergraduate education. 
"All learning and development requires an investment of time and effort by the student. If we don't capture this, we can't really assess their learning," Gonyea said.
The results from the survey (freshman and senior undergraduate students) identify areas where colleges and universities perform well in addition to areas of the institutions that could be improved.
Gonyea's session provided an opportunity to explore what student engagement results tell educators about best practices in teaching and learning. The University will participate in the survey in 2014.
General sessions
The afternoon program complemented the themes raised by Gonyea, as UD faculty shared recent perspectives from their diverse disciplines. UD faculty who presented sessions included:
John Barshaw, director, Higher Education Consortia, "How the Delaware Cost Study Can Facilitate Unit and Institutional Improvement";
Alex Brown and Anu Sivaraman, Department of Business Administration, "How Twitter Complements Student Engagement – In the Classroom and the Real World";
Phil Duker, Department of Music, "Standards-Based Grading";
David Ames, director, Center for Historic Architecture and Design, "Using Flickr to Survey Main Street and Engage the Community";
Nancy O'Laughlin and Mathieu Plourde, IT Academic Technology Services, "Using Data for Student Interventions and Course Updates"; and
Joe Harris, Department of English, led a panel session titled "Our Local Writing Culture: Reading the NSSE Writing Survey" with Erin Brannick, Department of Animal and Food Sciences, Joshua Hertz, Department of Mechanical Engineering, and Jonathan Justice, School of Public Policy and Administration.
Presentation slides (in PDF format) and session recordings are available online.
WFI 2014 is co-sponsored by the Center for Teaching and Assessment of Learning, the Institute for Transforming Undergraduate Education, University of Delaware Library and Academic Technology Services.
Photo by Kathy F. Atkinson