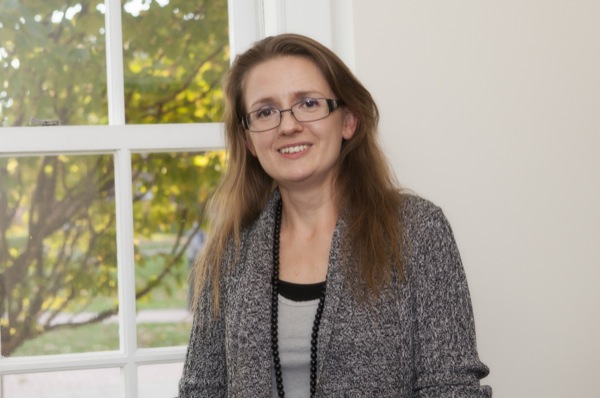 Technology in the Classroom
Rachael Hutchinson uses video games as a part of the curriculum in her classes
(Editor's note: This article is part of a continuing series by University IT on innovative use of technology in campus classrooms.)
1:26 p.m., Jan. 16, 2014--Rachael Hutchinson, associate professor of Japanese studies at the University of Delaware, requires her students to play video games to help them better understand Japanese culture. 
"Video games are a dynamic medium and students get very engaged and passionate with the game texts," Hutchinson said. "You can spark really interesting discussions between students and faculty." 
June 6: UDid It! Picnic
All UD faculty and staff members are invited to attend the annual UDid It! employee appreciation picnic, set from 11 a.m.-1:30 p.m., Monday, June 6, on The Green.
2FA protects you
If you are using two-factor authentication (2FA), even if a hacker has your password, your information is probably safe.
Hutchinson started teaching with video games as well as manga (Japanese comics) and anime (Japanese animation) because they are a huge part of Japanese culture. The video games Hutchinson chooses are made in Japan and give the player a sense of what is important in Japanese ideology and culture. 
"Faculty should use video games in the classroom because it is one of a student's main entertainment media," Hutchinson said. "The students are willing to engage with very difficult concepts because they are dealing with a medium they are familiar with, but in a new educational context." 
Hutchinson gives her students worksheets and blog assignments to complete while they are playing video games. One student will play a game while the others watch and complete the assignments, then they switch. 
"Students really enjoy blogging about games," Hutchinson said. "I have the students play games and do blog assignments. It feels very natural for the students, especially the ones who post in video game forums in their free time."
Video games also provide a different experience for the students. Instead of experiencing another person's actions, the students are actively taking part in the events. And the students who have never played video games before experience a new type of text. 
"It is an embodied and interactive experience," Hutchinson said. "When students are playing as a character in a game, it feels like they are experiencing that story and are more inclined to remember the content and engage in classroom discussions."
Students can play the required games in the games lab in Morris Library. The lab is a part of the film and video collection space where students can borrow games and play them in cubicles that house the PlayStation consoles. The cubicles are equipped with a television, a console and four seats for a group of students to play the games and fill out worksheets. 
Other disciplines can use the video games lab as well. For example, video games can be used to study art or graphic design. English classes can use them to explore character and psychological development; film studies can use them to show how the spectator works in an interactive medium; and history classes can use games to let their students experience important historical events and eras. 
"A game is a very complex text, so it has a lot of different elements that can be explored," Hutchinson explained. "That element of fun engages students, and they end up learning a lot."
Article by Thomas Joseph Springer III
Photo by Ambre Alexander Payne