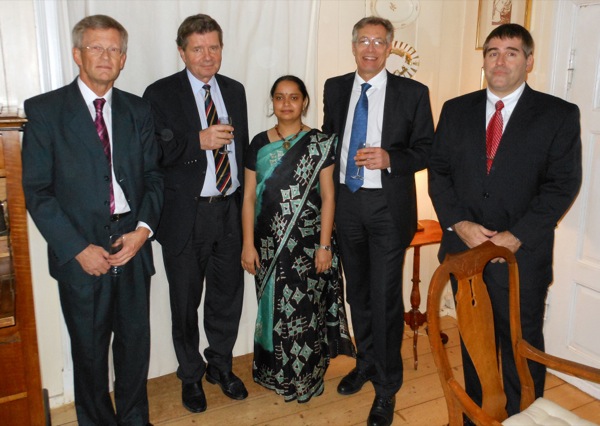 A Norwegian defense
Brain cancer researcher travels to Oslo for dissertation defense
12:38 p.m., Jan. 8, 2014--As winter weather hit Newark, Del., on Sunday, Dec. 8, a University of Delaware brain cancer researcher escaped the storm by traveling to Oslo, Norway, of all places. 
The Norwegian capital also received its first snow of the season that day, but it only accumulated to about three inches, according to Deni Galileo, associate professor of biological sciences at UD. He traveled to Oslo to take part in the Ph.D. defense of Mrinal Joel, a University of Oslo doctoral student who, like Galileo, is working on the most lethal type of brain cancer, Glioblastoma multiforme.
Fulbright awards
Three University of Delaware students and an alumna have received word this spring that they will travel abroad as part of the newest class of Fulbright Student Program award winners.
Peace Corps plans
Two University of Delaware students, John McCarron and Bridgette Spritz, have been selected as Peace Corps volunteers and will serve in Ghana and Rwanda.
Last summer, Galileo was contacted by Joel Glover, director of the Norwegian Center for Stem Cell Research at Oslo University Hospital, and asked to evaluate the doctoral student's thesis and then to travel to Norway in the fall to be an "opponent" during her "trial and disputation." That ominous sounding procedure really is the Ph.D. defense, although Galileo noted some distinct differences. 
"I suggested a lecture topic on which Mrinal was given two weeks' notice to prepare a trial lecture to gauge her ability to teach. I chose the topic 'characterization and function of normal neural stem cells' because it was related to, but distinct from, her thesis on 'characterization of stem cell-enriched glioblastoma cells in vitro and in xenotypic tissue environments.'"
Joel gave the public lecture on Dec. 9, which Galileo and two other committee members then evaluated. The next day, she gave a brief presentation on the highlights of her research and defended her thesis publicly by answering questions from two opponents: Galileo was the first, and major, opponent. 
"It kind of felt like it was a presidential debate," Galileo said, noting that he was asked to stand at a podium that faced Joel at another podium. The defense was held in front of an audience in a large lecture hall where medical students normally are taught. 
"I asked her over an hour's worth of questions, mostly about her specific experiments, including about methods and interpretation of results. It must have been pretty intimidating for her to go through that, getting so many questions from someone from another country who she never met before," Galileo said. 
After that, the second opponent, Juha Jaaskelainen, chair of neurosurgery at Kuopio University in Finland, asked more clinically relevant questions for about a half hour. 
"There, the written document, even for the Ph.D., is called a thesis, and the oral defense is called the dissertation," Galileo explained. 
Afterward, a doctoral dinner was held at a restored 19th-century farmhouse on the outskirts of Oslo.
"Mrinal hired an Indian chef to prepare a wonderful Indian meal," Galileo said. "Her mother also flew in from India to be at all of these activities."  
During his stay, Galileo also sampled several Norwegian specialties, including Lutefisk, which is cod steeped in lye, and Rakfisk, which is fish that has been fermented for several months. He even had pickled herring for breakfast. 
Galileo said he was struck by the fact that there are only 5 million people in Norway and by the beauty of the countryside and farmland, which he imagined America must have been like a few hundred years ago. 
"Several times, people reminded me, especially when we were at the Viking Ship Museum, that Norwegians discovered America using those small Viking ships several hundred years before Christopher Columbus crossed the Atlantic," Galileo said.
"It was a real honor and privilege to be Mrinal's main examiner, and it was an amazing experience overall," Galileo concluded. "This was such an important time in her life for becoming a scientist. How many times does someone get asked to be part of that?"
As a result of the trip, Galileo is planning a collaborative glioblastoma stem cell research project with his Norwegian colleagues.