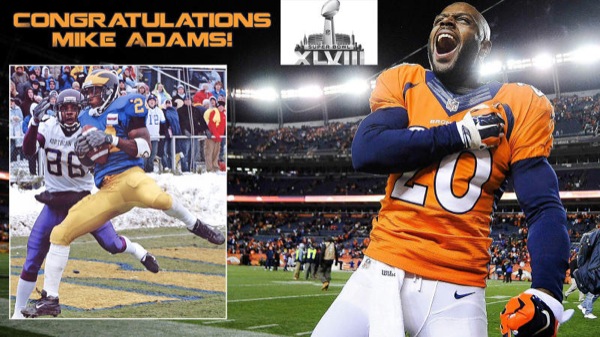 Super Hen
UD star Mike Adams bound for Super Bowl with Denver Broncos
8:37 a.m., Jan. 21, 2014--Mike (Pops) Adams, a 10-year National Football League veteran who led the University of Delaware to the 2003 national championship, will make his first Super Bowl appearance after leading the Denver Broncos to a 26-16 victory over the New England Patriots Sunday afternoon in the AFC Championship Game at Sports Authority Stadium. 
Adams, a safety, posted four tackles and helped hold the Patriot offense to just 320 total yards. 
Rower honored
University of Delaware junior Claire Brown has been named second team Collegiate Rowing Coaches Association All-Region.
Unsung Hero
The One Love Foundation has announced that University of Delaware men's lacrosse standout Elijah Conte has been selected as a winner of the 2016 YRL Unsung Hero Award.
Super Bowl XLVIII will be held on Sunday, Feb. 2, at 6:30 p.m. at MetLife Stadium in East Rutherford, N.J., less than a 20-minute drive from Adams' hometown of Paterson, N.J.
The Broncos will play the Seattle Seahawks, who defeated the San Francisco 49ers 23-17 in the NFC title game Sunday.
"I am thrilled that Mike has the opportunity to play in Super Bowl XLVIII, especially in his backyard (Paterson, N.J.)," said Delaware head coach Dave Brock. "He is a great representative of Delaware football on and off the field. The University of Delaware football family is proud he is a Blue Hen. Go Pops!"
Adams will be the sixth former Blue Hen to appear in the Super Bowl, joining defensive back Ivory Sully, quarterback Rich Gannon, tight end Ben Patrick, and last year's UD duo of quarterback Joe Flacco and center Gino Gradkowski. Flacco was named the Super Bowl's most valuable player last season as he threw for 287 yards and three touchdowns and led the Ravens to a 34-31 victory over the San Francisco 49ers in New Orleans.
Sully played special teams for the Los Angeles Rams against Pittsburgh in 1980, former NFL Most Valuable Player Rich Gannon started at quarterback for the Oakland Raiders against Tampa Bay in 2003, and tight end Ben Patrick caught a touchdown pass for the Arizona Cardinals in 2009 against Pittsburgh.
In addition, former Blue Hens wide receiver Jamin Elliott was a member of the practice squad for New England and earned a championship ring when the Patriots won Super Bowl XXXVII over the Carolina Panthers in 2004.
Adams has enjoyed a solid NFL career since signing as a free agent with the San Francisco 49ers in 2004. He played for the 49ers for three seasons (2004-06) and with the Cleveland Browns for five seasons (2007-11) before joining the Broncos prior to the 2012 season. He also led the Broncos to a berth in the AFC semifinals in 2012. 
During the 2013 regular season, Adams appeared in all 16 games with seven starts and ranked fifth on the squad with 64 tackles. He also contributed an interception and seven pass breakups.  For his career, Adams has appeared in 146 regular season games with 73 starts and collected 542 tackles, 13 interceptions, and 49 pass breakups. 
While at Delaware, Adams was a four-year letter winner and three-year starter who served as co-captain of the 2003 Delaware team that went 15-1 and captured the NCAA Division I Football Championship Subdivision national title his senior year. He had 70 tackles and four interceptions as a senior while earning All-Atlantic 10 honors.
A 2004 Delaware graduate, Adams collected 213 tackles, 11 interceptions, and 16 pass breakups for his career. He also led the Blue Hens to the NCAA semifinals as a sophomore in 2000. 
Adams is one of eight former Blue Hens who appeared on NFL regular season rosters in 2013, joining Flacco and Gradkowski with the Ravens, linebacker Paul Worrilow with the Atlanta Falcons, defensive back Anthony Walters of the Chicago Bears, quarterback Pat Devlin of the Miami Dolphins, defensive end Ronald Talley with the Arizona Cardinals, and defensive back Marcus Burley, formerly with the Jacksonville Jaguars. 
Delaware ranks No. 2 among all NCAA Division I Football Championship Subdivision institutions with seven current players on NFL rosters. Only Montana, with eight current players, has more on current NFL rosters.