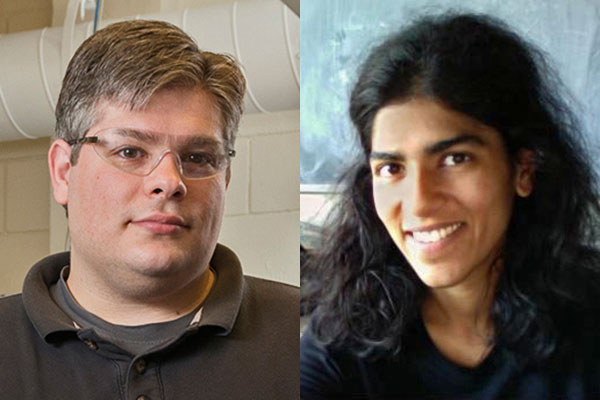 Sloan Fellows
Two UD faculty members selected for prestigious Sloan research awards
9:49 a.m., Feb. 19, 2014--Two University of Delaware faculty members have received 2014 Sloan Research Fellowships, recognizing their work in chemistry and in mathematics and identifying them as among the next generation of scientific leaders.
Nayantara Bhatnagar and Joel Rosenthal, assistant professors of mathematical sciences and of chemistry and biochemistry, respectively, are among this year's 126 recipients of the fellowship, which is sponsored by the nonprofit Alfred P. Sloan Foundation.
Chronic wounds
UD's Millicent Sullivan and Kristi Kiick have received a $1.4 million grant from the National Institutes of Health for research that could provide a new approach to the treatment of chronic wounds.
Prof. Heck's legacy
The American Chemical Society is highlighting the legacy of the late Nobel laureate Richard Heck, the Willis F. Harrington Professor Emeritus of Chemistry at the University of Delaware with a digital tribute on its publications website.
Awarded annually since 1955, the highly competitive fellowships are given to "early-career scientists and scholars whose achievements and potential identify them as rising stars," the foundation said in announcing the awards.
Foundation president Paul L. Joskow said the fellowships are targeted to researchers during the "crucial" stage in their careers when funding and recognition can have a large affect. The 2014 recipients come from 61 colleges and universities in the United States and Canada and represent eight fields of study. 
"These researchers are pushing the boundaries of scientific knowledge in unprecedented ways," Joskow said. 
All the honorees were nominated by fellow scientists and selected by an independent panel of senior scholars. Each fellow receives a $50,000 grant to support his or her research.
Nayantara Bhatnagar
Bhatnagar works in the mathematics department's research area of probability and stochastic methods. She focuses on probability theory, often motivated by problems from statistical physics, combinatorics, statistics and theoretical computer science. In particular, she explores mixing times of Markov chains, random walks, random permutations and Gibbs measures on trees and random graphs.
She earned her doctoral degree in algorithms, combinatorics and optimization at the Georgia Institute of Technology, taught at the University of California at Berkeley and was a postdoctoral fellow in the Department of Computer Science and Engineering at Hebrew University of Jerusalem, before joining the UD faculty in 2012.
This semester, Bhatnagar is participating in the Simons Program on Evolutionary Biology and the Theory of Computing at the Simons Institute at Berkeley. The institute offers a rotating series of programs, usually a semester long, that bring together leading researchers in various fields to collaborate.
According to the institute, the program in which Bhatnagar is taking part aims to promote the interaction between theoretical computer scientists and researchers from evolutionary biology, physics, probability and statistics "to identify and tackle some of the most important theoretical and computational challenges arising from evolutionary biology."
Joel Rosenthal
Rosenthal's work in renewable energy focuses on the use of solar energy to convert carbon dioxide into synthetic liquid fuels.
One of his projects involves the use of bismuth — an inexpensive, nontoxic and plentiful substance — that he said can be an affordable catalyst in making synthetic fuels. 
The research focuses on the process of converting carbon dioxide into high-energy carbon monoxide, which then becomes the main ingredient in making synthetic liquid fuel, with the promise of using that new substance to replace fossil fuels.
Scientists who have been converting carbon dioxide to carbon monoxide most commonly use gold or silver as a catalyst, but Rosenthal said bismuth is much more cost-effective. The idea, he said, is to take a free and renewable source of energy such as solar and use that energy with bismuth as a catalyst to convert the carbon dioxide into fuel.
Rosenthal, who earned his doctorate in inorganic chemistry at MIT, joined the UD faculty in 2010. He has received a Young Investigator Award from the American Chemical Society, a Ralph E. Powe Junior Faculty Enhancement Award from Oak Ridge Associated Universities and a DuPont Young Professor Award. He was recently named a Dreyfus Environmental Chemistry Mentor.