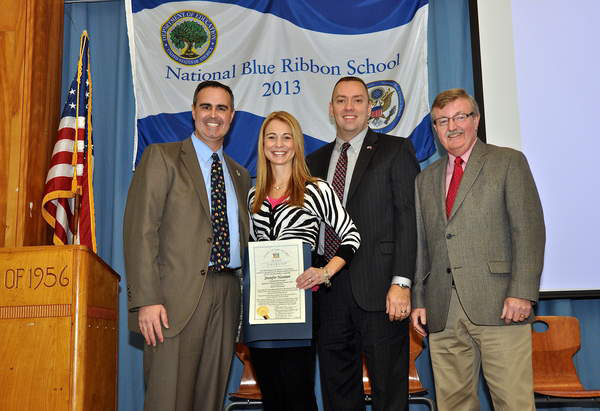 Bell Award
UD alumna Nauman receives national school leadership award
3:01 p.m., Feb. 5, 2014--University of Delaware alumna Jennifer Nauman, a 1999 elementary teacher education graduate, isn't the kind of elementary school principal who is satisfied with her school being good. She wants it to be great. 
It was this mindset that led her to become the first Delaware principal to receive the Terrel H. Bell Award for outstanding school leadership from the U.S. Department of Education at its 2013 National Blue Ribbon Schools Awards Ceremony in Washington D.C.
National Medal of Science
President Barack Obama recently presented the National Medal of Science to University of Delaware alumnus Rakesh Jain.
Warren Award
Rosalind Johnson, assistant dean for student success in the NUCLEUS Program in UD's College of Arts and Sciences, was presented the John Warren Excellence in Leadership and Service Award during a May 26 ceremony.
One of seven award recipients nationwide, Nauman, principal of the Richard A. Shields Elementary School in Lewes, Del., was selected from a pool of almost 200 principals from National Blue Ribbon Schools.
The Terrel H. Bell Award recognizes outstanding school leaders and the vital role they play in guiding students and schools to excellence, frequently under challenging circumstances. 
Principals nominated for this award are school leaders committed to fostering successful teaching and learning at their schools and who do "whatever it takes" to help their students meet high standards. 
When Nauman arrived three years ago at Shields Elementary School, she recognized that the school was doing well. But to take it a step ahead, she knew she would have to articulate a clear and concise vision to foster a culture of achievement for the school.
First, she surveyed parents and teachers to get an understanding of who they were and what they needed from her. Then she created a school improvement team to develop a shared vision that prioritized high standards focused on continuous improvement. 
As a result of the strong rapport Nauman has developed with her staff, students and families, she is able to encourage each of the 730 Shields students toward their personal best.
"The teachers and I set goals with the students individually and work with them and their families to help them meet their targets," said Nauman. 
And the successes have been noticed. Shields was recognized as a National Blue Ribbon School in 2013 and honored by the state of Delaware as a recognition school in 2012-13.
"We know effective leadership is essential for students' continuous learning and growth," Delaware Secretary of Education Mark Murphy said. "Jennifer has cultivated an environment in which all students can learn, and I am inspired by the hard work and passion that have driven her to seek the continuous improvement of her students, staff and herself."
Nauman, who graduated from UD's School of Education magna cum laude, said she is very appreciative of her opportunities at UD. "Many of my classmates are also principals and teachers in Delaware and I still reach out to them. UD gave me the real-world experience and knowledge base to become a great teacher and now principal."
As for her current position, Nauman said, "I feel honored and proud to be the principal at Shields. We have a dedicated staff, hard-working students, and supportive parents. Who could ask for more?"
About the Award
The Terrel H. Bell Award is given by the U. S. Department of Education, together with the National Association of Elementary School Principals, the National Middle Schools Association and the National Association of Secondary School Principals. 
Principals are nominated by their school communities during the final stages of the National Blue Ribbon Schools application process. Terrel H. Bell, nominated by President Ronald Reagan, was the second U. S. Secretary of Education.
Article by Christina Mason Johnston
Photo courtesy of Jennifer Nauman