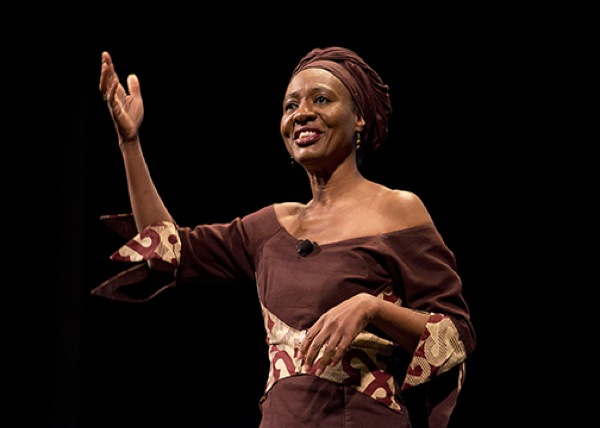 Africa today
Policy expert Emira Woods highlights continent's progress, potential
4:10 p.m., Feb. 20, 2014--When Americans and other Westerners think about Africa, their first thoughts are often of poverty and war. But the continent, while certainly facing problems, holds a great deal of promise for its own future and for the rest of the planet.
That was the message delivered by Emira Woods, a foreign policy expert with a special emphasis on Africa and the developing world, to an audience in the University of Delaware's Mitchell Hall on Wednesday, Feb. 19. Her talk, "Africa in the 21st Century," opened this spring's Global Agenda speaker series, which will continue with five more events.
Fulbright awards
Three University of Delaware students and an alumna have received word this spring that they will travel abroad as part of the newest class of Fulbright Student Program award winners.
Peace Corps plans
Two University of Delaware students, John McCarron and Bridgette Spritz, have been selected as Peace Corps volunteers and will serve in Ghana and Rwanda.
A video of the presentation is available.
"Many people still don't recognize that Africa is the cradle of humanity," said Woods, co-director of Foreign Policy In Focus at the Institute for Policy Studies in Washington, D.C. "Africa is where things began, and it's where things are going."
The world has always turned to Africa for resources, she said, from the human resources taken in slavery to the natural resources so important in today's global economy—including oil deposits, vital minerals and arable land. Here are a few of the statistics to which she referred:
Africa's $2 trillion economy is growing more rapidly than any other continent's. Of the world's top-10 fast-growing economies, seven are in African nations. 
The Democratic Republic of Congo has as much as 80 percent of the global supply of coltan ore, essential for manufacturing such electronic devices as cell phones and laptops.
Significant oil and gas discoveries are being made in new parts of the continent, including Kenya, Ghana and Uganda, which have the potential to join such established oil-rich countries as Nigeria and Algeria.
Most of the potential farmland on Earth (60 percent) is in Africa.
The continent is progressing politically. In the past three years, 22 African nations have experienced popular movements for change, and women are increasingly represented in government. The highest rate of women's participation in national office in the world, for example, is in Rwanda, where they make up 55 percent of the parliament; in South Africa, the proportion is about 45 percent.
African entrepreneurs are "leapfrogging" ahead in developing new uses for technology, "building a stronger Africa and a stronger world," Woods said.
While "this incredibly rich continent" holds such potential, it also faces a continuing problem of losing its resources to other parts of the world, Woods said. Multinational companies from Europe and the United States — and, now, increasingly from China as well — have a history of exploiting resources, she said, shipping them elsewhere and offering few if any benefits to the people who live in Africa. She cited recent examples of this in oil exploration and in the growing incidence of "land grabs," where outside nations buy African farmland, often to raise crops that are turned into biofuels.
"So the land is being used to feed cars [in other parts of the world], when people nearby are going hungry," she said.
Woods expressed optimism for the future, giving much of the credit for progress across the world to young people. She urged her audience at UD, particularly students, to continue to be activists and to support movements for change — the most effective way, she said, of dealing with the global problem of inequality and the ever-increasing gap between rich and poor, both within countries and between countries.
"I think the public discourse has shifted ... and it's young people who have changed the global agenda," she said. "I think it's young people, and particularly young people in Africa, that are helping to drive a different path forward."
Global Agenda continues, with a schedule change
The Global Agenda series, whose theme this year is "Global Demands, Regional Responses," continues on Wednesday, March 5, with speaker Richard Wike, director of the Global Attitudes Project with the Pew Research Center.
A talk by Peter Westmacott, British ambassador to the U.S., previously scheduled for Wednesday, March 26, has been moved to Tuesday, March 25.
All the talks begin at 7:30 p.m. in Mitchell Hall and are free and open to the public.
This year's series is directed and moderated by Julio Carrión, director of the Center for Global and Area Studies and professor of political science and international relations.
Article by Ann Manser
Photo by Duane Perry