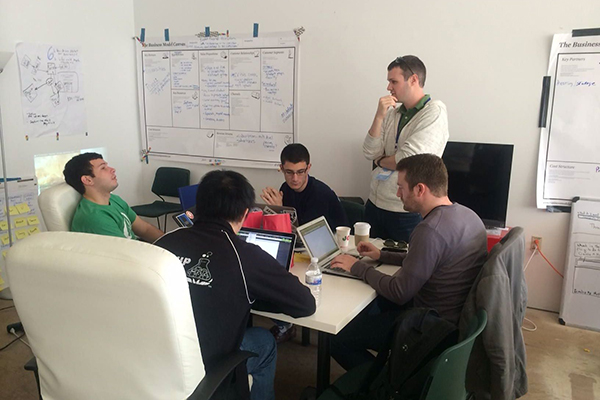 Vote ProjectedU
Student team seeks votes to advance in Global Startup Battle
3:05 p.m., Dec. 5, 2013--In this day of information overload, grabbing the attention of busy college students can be a challenge. ProjectedU seeks to address that problem with a technological solution that can be paired with classroom projectors.
The business startup is the brainchild of University of Delaware students Benjamin Rapkin and Austin Crouse, as well as Alec McCullie, an MBA student at the University of Pennsylvania, and Dias Gotama, a computer science student at Drexel University.
'Resilience Engineering'
The University of Delaware's Nii Attoh-Okine recently published a new book with Cambridge University Press, "Resilience Engineering: Models and Analysis."
Reviresco June run
UD ROTC cadets will run from New York City to Miami this month to raise awareness about veterans' affairs.
The team developed the idea over the course of two days after the four students joined forces at Startup Weekend, a global grassroots movement of active and empowered entrepreneurs who are learning the basics of founding startups and launching successful ventures.
Sponsored in part by UD's Horn Program in Entrepreneurship, the latest Startup Weekend event held in Wilmington, Del., in early November served as the home base for ProjectedU.
"Startup Weekend was one of the most valuable learning experiences I have ever attended as an entrepreneur," said Rapkin. "Austin and I arrived at Startup Weekend on Friday afternoon with no plan to pitch and idea, but last minute decided to pitch our business that involves projecting advertising contest to students in their classrooms in-between classes."
It was there that Rapkin and Crouse met McCullie and Gotama to transform their idea into reality.
The formation of their team followed the basic Startup Weekend model -- anyone is welcome to pitch their startup idea and receive feedback from peers. Teams then organically form around the top ideas (as determined by popular vote) and then face a 54-hour frenzy of business model creation, coding, designing and market validation. 
The weekends culminate with presentations in front of local entrepreneurial leaders with another opportunity for critical feedback.
"After talking to several industry professionals we learned that universities are looking for more reliable ways to communicate with their students," said Crouse.
On Sunday of the Startup Weekend, the team built a website, established a brand through social media outlets, and prepared and delivered their final pitch to a panel of local entrepreneurs and investors. 
ProjectedU placed fourth out of nine ideas and the competition continues this week with the Global Startup Battle.
As part of Global Startup Battle, ProjectedU submitted a video and is currently gathering votes from friends and supporters to advance to the next round.
Individuals can cast votes for ProjectedU on the Global Startup Battle website.
"Our network of developers, designers, film makers, lawyers, app developers, and business people has tripled in size from our participation in Startup Weekend," said Rapkin. "It was an invaluable experience and we both plan on a attending the next Startup Weekend in February."