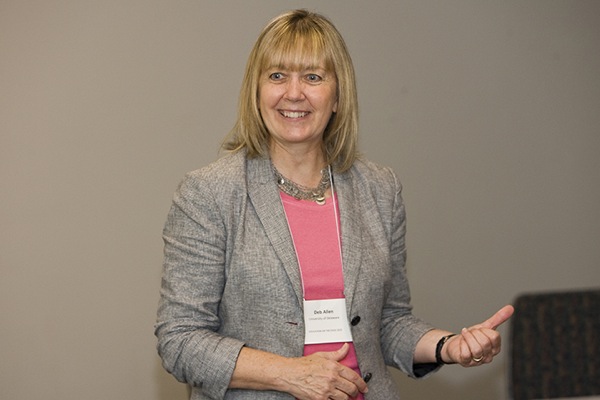 Science education award
UD's Allen honored with Alberts Award for pioneering work
4:18 p.m., Aug. 22, 2013--The American Society for Cell Biology (ASCB) has honored UD's Deborah Allen with its 2013 Bruce Alberts Award for Excellence in Science Education.
The associate professor of biological sciences was cited by the society for her "pioneering and influential work in biology education." Also the director of UD's Center for Teaching and Assessment of Learning, Allen was an early proponent of problem-based learning -- a teaching method in which students work collaboratively to solve real-world problems that are challenging and complex.
National Medal of Science
President Barack Obama recently presented the National Medal of Science to University of Delaware alumnus Rakesh Jain.
Warren Award
Rosalind Johnson, assistant dean for student success in the NUCLEUS Program in UD's College of Arts and Sciences, was presented the John Warren Excellence in Leadership and Service Award during a May 26 ceremony.
"Over the past two decades, Allen has made significant contributions to faculty professional development, science K-12 teacher professional development, curriculum development, science education research and science education grants administration," the ASCB said in announcing her selection for the award.
A recipient of the University's Excellence in Teaching Award and its Innovation Award, she is a founding leader of UD's Institute for Transforming Undergraduate Education and designs and implements workshops on problem-based learning and collaborative learning that are offered at the institute and on other campuses.
Allen spent the past three years at the National Science Foundation as a program officer in the Division of Undergraduate Education before returning to UD. Her articles about biology teaching and learning have been collected into a book with co-author Kimberly C. Tanner, Transformation: Approaches to College Science Teaching.
The Bruce Albert Award will be presented in December at the ASCB annual meeting.
Article by Ann Manser
Photo by Ambre Alexander