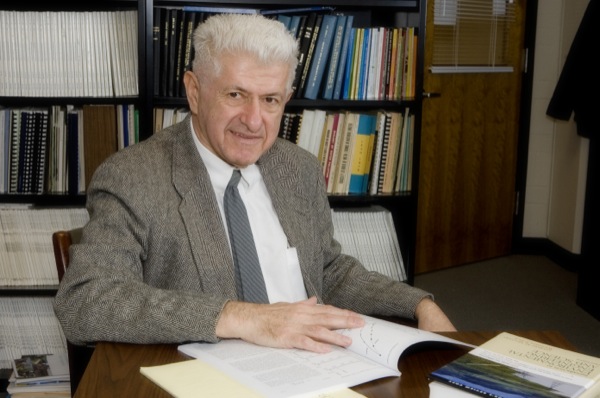 ACS Fellow
Retired UD engineering professor selected as 2013 ACS Fellow
11:12 a.m., Aug. 15, 2013-- Herbert E. Allen, professor emeritus of civil and environmental engineering and former director of the Center for the Study of Metals in the Environment (CSME) at the University of Delaware, has been named a 2013 American Chemical Society Fellow.
Conferred annually since 2008, ACS Fellows are nominated by their peers and selected for their outstanding accomplishments in scientific research, education and public service.
National Medal of Science
President Barack Obama recently presented the National Medal of Science to University of Delaware alumnus Rakesh Jain.
Warren Award
Rosalind Johnson, assistant dean for student success in the NUCLEUS Program in UD's College of Arts and Sciences, was presented the John Warren Excellence in Leadership and Service Award during a May 26 ceremony.
"Their individual contributions to ACS, to science and to society are hallmarks of distinction in keeping with the ACS mission of advancing the chemical enterprise and its practitioners for the benefit of Earth and its people," Bassam Shakhashiri, ACS immediate past-president, said in a press release announcing the 2013 Class of Fellows.
This year's 96 ACS Fellows will be recognized during the ACS National Meeting in Indianapolis on Sept. 9. 
"Herb's selection as an ACS Fellow is a wonderful recognition of his excellent work on the effect of metals in the environment and the valuable contributions he has made to the engineering community," said Harry (Tripp) Shenton, chair of the Department of Civil and Environmental Engineering.
Allen, who retired from UD in 2008 after 19 years as a member of the engineering faculty, is highly regarded as an expert on the effects of metals in the environment. He conducted groundbreaking research on the fate and effects of pollutants in water, sediment and soil and helped develop environmental standards still in use today. 
His other research interests included the bioavailability of trace materials and ecological risk assessments. 
Although technically retired, Allen continues to remain active within the UD community. He is currently collaborating with Dominic Di Toro, Edward C. Davis Professor of Civil and Environmental Engineering and CSME director, on two Strategic Environmental Research and Development Program grants aimed at understanding and predicting the interactions between military explosives and other munitions and the environment. 
"We are studying how munitions ingredients are absorbed in soil and their migration into groundwater and uptake by plants and animals," Allen said. "These results will be useful in the design of cleanup strategies and will provide early information about the potential hazards presented by new materials released from manufacturing or used on firing ranges."
In addition to his work at UD, Allen has served on several national committees including the National Research Council Committee on Technologies for Cleanup of Subsurface Contaminants and the World Health Organization's international program on chemical safety.
Other UD connections
Other current and former faculty who have been designated ACS Fellows include Michael T. Klein, Unidel Dan Rich Chair of Energy and director of the UD Energy Institute; E. Terry Papoutsakis, Unidel Eugene du Pont Chair of Chemical Engineering; P. Andrew Evans, at UD from 1993-2000 and now professor of chemistry at the University of Liverpool; Arnold L. Rheingold, at UD from 1984-2003 and now professor of chemistry at the University of California, San Diego; and Jean F. Futrell, a member of the UD faculty from 1986-99 and chairperson of UD's Department of Chemistry and Biochemistry from 1986-95 and from 1996-97, and now Senior Batelle Fellow at Pacific Northwest National Laboratory.
UD alumni also designated with this honor include Anita J. Brandolini, who received a master's degree in 1982 and a doctorate in 1983, professor of chemistry at Ramapo College of New Jersey; Arthur J. Coury, who received a bachelor's degree in 1962, retired vice president for biomaterials research at Genzyme Corp.; Ned D. Heindel, recipient of a master's degree in 1961 and a doctorate in 1963, who is now H.S. Bunn Professor of Chemistry at Lehigh University and past president of the American Chemical Society; Jeannette E. Pemberton, who received her bacehlor's degree in 1977 and is now professor of chemistry at the University of Arizona; and Yorke E. Rhodes, who received a master's degree in 1959, professor emeritus of chemistry at New York University.
Article by Collette L. O'Neal
Photo by Kathy F. Atkinson