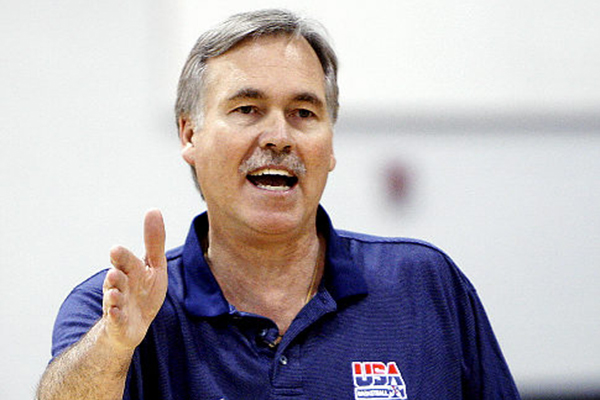 Sept. 24: D'Antoni to address ICECP
Noted basketball coach Mike D'Antoni to deliver ICECP keynote
8:18 a.m., Sept. 18, 2012--Mike D'Antoni, U.S. men's basketball assistant and former NBA head coach, will be the keynote speaker at the opening ceremony of the fifth edition of the International Coaching Enrichment Certificate Program (ICECP) on Monday, Sept. 24, at 9 a.m., in the Grand Ballroom of Marriott's Courtyard Newark-University of Delaware hotel on campus.
The ICECP, which UD offers in conjunction with the U.S. Olympic Committee and the International Olympic Committee's Olympic Solidarity Fund, will host 31 national level coaches representing all five Olympic regions, 31 countries and 11 sports.
Fulbright awards
Three University of Delaware students and an alumna have received word this spring that they will travel abroad as part of the newest class of Fulbright Student Program award winners.
Peace Corps plans
Two University of Delaware students, John McCarron and Bridgette Spritz, have been selected as Peace Corps volunteers and will serve in Ghana and Rwanda.
The program consists of lectures, guest speakers, participant presentations, group work and field trips. In addition, each coach will undergo an apprenticeship with a U.S. national team or college team as well as develop a project aimed at improving their national coaching infrastructure with the support of an international coaching expert.
D'Antoni served as the assistant coach for the U.S. men's basketball team that won the gold medal at the 2012 London Olympics.
As a member of the U.S. national coaching staff, D'Antoni has helped the team capture gold at the 2008 Beijing Olympics, gold at the 2010 FIBA World Championships and bronze at the 2006 FIBA World Championships.
"We are much honored to have Mike serve as our keynote. He was essential to the U.S. returning as the leader in men's international basketball," said UD's Matthew J. Robinson, ICECP director and professor of sport management. "Mike has excelled at every environment in which he has coached and has an international perspective from his experiences as a player and coach overseas. That international perspective was very important to U.S. basketball success in the last two Olympics and the 2010 World Championships. I know the coaches from all of the sports will benefit immensely from Mike's insights."
D'Antoni served as head coach of the New York Knicks from 2008-11, leading them to their first playoff appearance in seven years. Prior to coaching the Knicks D'Antoni was the head coach of the Phoenix Suns from 2003-07 and was named NBA Coach of the Year for the 2004-05 season. He led the Suns to 50 wins four seasons in a row.
D'Antoni coached in Europe prior to his time in the NBA, leading Benetton Treviso to the National League Title in 1996-97 and the Cup of Europe and Coppa Italia in 1995.