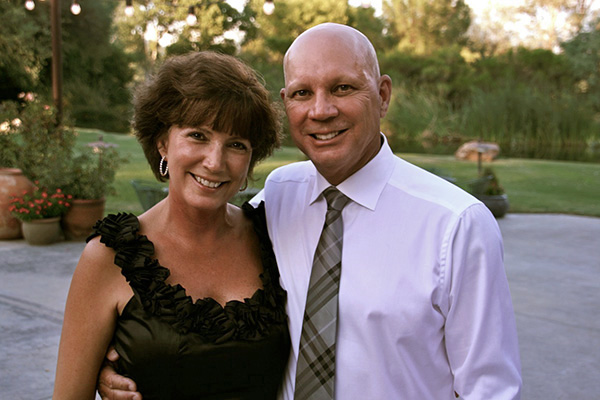 New program created
UD alumnus commits $3 million to entrepreneurship program
7:46 a.m., Sept. 18, 2012--The University of Delaware has received a $3 million commitment from alumnus Charles W. (Charlie) Horn, a 1975 alumnus, and his wife, Patricia A. (Patty) Horn. The gift will be used to enhance and expand entrepreneurial studies at UD through the creation of the Horn Program in Entrepreneurship, an interdisciplinary program housed in the Alfred Lerner College of Business and Economics.
Major components of the initiative will be unveiled at a launch celebration to be held Oct. 12 on the UD campus.
'Resilience Engineering'
The University of Delaware's Nii Attoh-Okine recently published a new book with Cambridge University Press, "Resilience Engineering: Models and Analysis."
Reviresco June run
UD ROTC cadets will run from New York City to Miami this month to raise awareness about veterans' affairs.
According to Bruce Weber, dean of the Lerner College, the event also will give guests the opportunity to listen to and vote on brief pitches by aspiring student entrepreneurs. The pitches that receive the most votes will receive start-up support and resources worth $1,500.
"We look forward to welcoming the Horns to campus again as we launch this forward-thinking program made possible by their generosity," says Weber. "Once they hear from our prospective student entrepreneurs and see our plans for the future of this program, both Charlie and Patty will know that they made the right decision by investing in the University of Delaware."
UD President Patrick Harker says he believes the Horns' investment will bring increased opportunities to individuals both on and off campus.
"More and more, the people driving economic growth in this country aren't those in multibillion-dollar companies; they're our entrepreneurs, our risk-takers," says Harker. "We need to cultivate their creativity and inventiveness. We need to invest ourselves in them, help them move from idea to innovation to commercialization. The Horn Program in Entrepreneurship is intended to do exactly that — to give people inside and outside UD access to the resources that will help them harness their own ingenuity."
Dan Freeman, associate professor of marketing, who will serve as director of the Horn Program in Entrepreneurship, says he agrees with Harker. "This gift will have a transformative impact on and around campus by expanding educational opportunities and promoting startup activity. We are very grateful to Charlie and Patty for their belief in the value of entrepreneurial education and their desire to make a big impact on the University and the community."
The Horn Program in Entrepreneurship is comprised of curricular, co-curricular and outreach components. Current elements of the program include an undergraduate minor in entrepreneurial studies and an MBA concentration in entrepreneurship.
Also included are: the Venture Development Center, a student business hatchery/incubator; Hen Hatch, UD's premier startup funding competition; and an annual President's Forum on Innovation and Entrepreneurship.
The Horn gift will strengthen these properties, which have been experiencing a marked increase in student and community interest. It will also support new curricular offerings at both the undergraduate and graduate levels.
These offerings will be interdisciplinary in focus and provide valuable experiences to students in all majors, not just business majors. Aggressive expansion of co-curricular and outreach programming is also planned.
Such a program would have been unfathomable to Charlie Horn when he was a student at UD in the mid-1970s. While he was a successful student-athlete, serving as captain of the UD men's golf team, Horn was admittedly detached academically.
"Unfortunately I was a disengaged student, which I regret to this day," he says. "I was always interested in starting my own business, but in those days universities were focused on preparing students to work for someone else, not for yourself."
After graduating from UD in 1975, Horn set forth to use the leadership skills he acquired as a student-athlete and the knowledge of human behavior that he gained through his sociology major to build a successful entrepreneurial career. Today, he is an active entrepreneur based in Tucson, Ariz., and an investor in numerous high-growth companies focusing on the areas of health care and consumer benefits marketing and technologies. 
He is chairman and founder of the prescription drug benefit company, ScriptSave; the private equity company, Pro Private Equity, LLC; and the management advisory services company, Pro Business Management Services, LLC.
The Horns, who have been married for 35 years, also founded and co-chair The Touchstone Foundation, a non-profit which provides funding to a variety of health care and family service charitable organizations.  
When asked what their aspirations are for the Horn Program in Entrepreneurship, both seem to have a clear vision. 
"It is our hope that the University community, its alumni, faculty, students and administration along with the larger business community, local governments and local schools embrace these initiatives and contribute resources of their own for the betterment of all stakeholders," says Charlie Horn. "Our nation has always been known as the land of opportunity and free enterprise and we believe the future of this country will depend on the strength of its economy and the strength of its economy will depend not solely on government actions, but on the great inventive efforts of creative entrepreneurs and their associates. Entrepreneurship can be learned and UD can be a true leader of this movement. It can become a model for the rest of the region, the country and hopefully the world to follow."
To inspire others in the community to support the Horns' vision, UD is announcing the Horn Entrepreneurial Challenge. Donors who make gifts to the Horn Program in Entrepreneurship receive triple recognition credit for their gift. This will allow donors to more quickly enter the University's giving societies and enjoy the privileges they provide. 
The Horn Entrepreneurial Challenge will run until the University awards a maximum of $750,000 in increased recognition credit. For more information on the Horn Entrepreneurial Challenge, contact Elizabeth Cahill at 302-831-4679 or ekcahill@udel.edu.