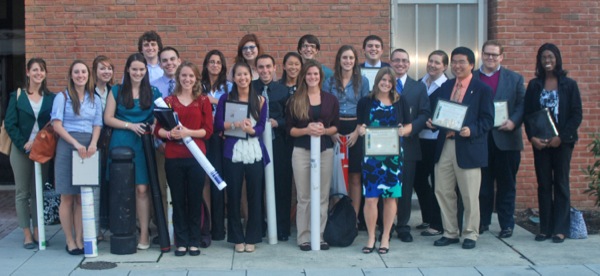 Student researchers
UD science undergraduates excel at annual East Coast competition
2:01 p.m., Oct. 26, 2012--The University of Delaware was well represented at the 15th annual Undergraduate Research Symposium in the Chemical and Biological Sciences, held Saturday, Oct. 20, at the University of Maryland, Baltimore County. 
More than 220 undergraduates from 45 East Coast colleges and universities in 10 states competed for awards in 33 judging groups at the symposium. Of the 22 UD students who attended, five received first-place awards and three received second-place awards in several groups of biology, biochemistry and molecular biology.
National Medal of Science
President Barack Obama recently presented the National Medal of Science to University of Delaware alumnus Rakesh Jain.
Warren Award
Rosalind Johnson, assistant dean for student success in the NUCLEUS Program in UD's College of Arts and Sciences, was presented the John Warren Excellence in Leadership and Service Award during a May 26 ceremony.
The students' attendance at the symposium was coordinated by UD's Howard Hughes Medical Institute (HHMI) Undergraduate Science Education Program. Two faculty members — Hal White, professor of chemistry and biochemistry and director of the HHMI program at UD, and Carlton Cooper, assistant professor of biological sciences — accompanied the students.
First-place winners, their categories and faculty supervisors are:
Kevin Chang, biological sciences group 5B, Kristi Kiick;
Megan Dumas, biological sciences 4A, Jia Song;
Zachary March, biochemistry and molecular biology 4B, David Colby;
Seth Ritter, biochemistry and molecular biology 2A, David Colby; and
Justin Teesdale, chemical science 2B, Joel Rosenthal.
Second-place awards went to:
Christine Dang, biological science 4A, Salil Lachke;
Allison McCague, biological science 5A, Erica Selva; and
Helen Schmidt, biological science 3B, Shawn Polson and K. Eric Wommack.
Also presenting at the symposium were:
Mike Estephan, chemical science, Catherine Leimkuhler Grimes;
Michelle Francis, biological science, Mary Ann McLane;
Kahina Ghanem, biological science, Gary Laverty;
Rebecca Gripp, biochemistry and molecular biology; Clara Chan;
Kathryn Hopkins, biochemistry and molecular biology, Catherine Grimes;
Chenxi Huang, biochemistry and molecular biology, Gary Laverty;
Douglas Kenny, chemical science, Brookhaven National Lab;
Kara Martin, chemical science, Neal Zondlo;
David Matera, biological science, Randall Duncan and Carlton Cooper;
Monica Pirigyi, biochemistry and molecular biology, Neal Zondlo;
Annie Sanger, biochemistry and molecular biology, Catherine Grimes;
Kathleen Seip, biochemistry and molecular biology, Michelle Parent and Catherine Grimes;
Anna Walter, chemical science, Klaus Theopold; and
Cullen Worsh, biological science, Melinda Duncan.
For more information and photos of UD students at the symposium, visit the website.
Photo courtesy of Hal White