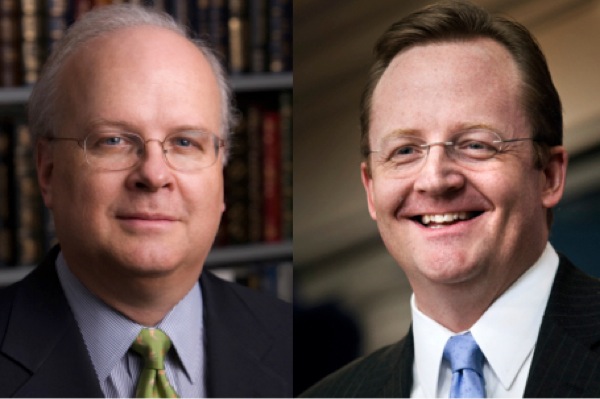 Nov. 1: UD Speaks
Political pundits Gibbs and Rove to give joint lecture in UD Speaks series
9:36 a.m., Oct. 15, 2012--Political pundits Robert Gibbs and Karl Rove will give a joint public lecture on campus Thursday, Nov. 1. The pair of White House insiders will discuss politics, parties and predictions for the 2012 election, the week before Americans head to the polls.
Gibbs, former press secretary for the administration of President Barack Obama, works within the Obama 2012 election campaign as a senior adviser.  He previously served as press secretary for John Kerry's 2004 presidential bid and as communications director for the Democratic Senatorial Campaign Committee.
June 5: Blue Hen 5K
University of Delaware graduates planning to attend Alumni Weekend are encouraged to register for the annual Blue Hen 5K walk and run, which will be held Sunday morning, June 5.
June 6-9: Food and culture series
The 20th annual June Lecture Series at the Osher Lifelong Learning Institute at UD in Wilmington will be held June 6-9. Titled 'June a la Carte,' this year's program focuses on great political documents, feminism, world politics and a Newark cuisine sampler.
Rove worked inside George W. Bush's White House from 2000 to 2007, serving as deputy chief of staff and senior adviser to the president. Rove is widely regarded as "the architect" of Bush's two victorious presidential campaigns. Rove contributes commentary to Fox News, Newsweek and the Wall Street Journal.
Their appearance at UD will begin at 8:30 p.m. on Thursday, Nov. 1, at the Bob Carpenter Center.  The night will include a moderated discussion between the two, followed by questions from the audience.  Tickets will go on sale Monday, Oct. 1, at UD box offices and via Ticketmaster; cost per ticket is $5 for students, $7 for faculty and staff, and $10 for the public.  All seating is general admission.
The talk is part of the UD Speaks series.  UD Speaks is dedicated to bringing world-class leaders to the Newark campus to educate, enlighten and engage the University community. 
Past speakers include soccer star Mia Hamm, former Secretary of State Colin Powell, former Pittsburgh Steelers coach Bill Cowher, legendary musician Wynton Marsalis and CNN anchor Anderson Cooper.  
This will be Rove's second appearance in the series.  In 2010, he spoke with former Democratic National Committee chairman Howard Dean. 
The event is presented by the Division of Student Life, University Student Centers and the Center for Political Communication.