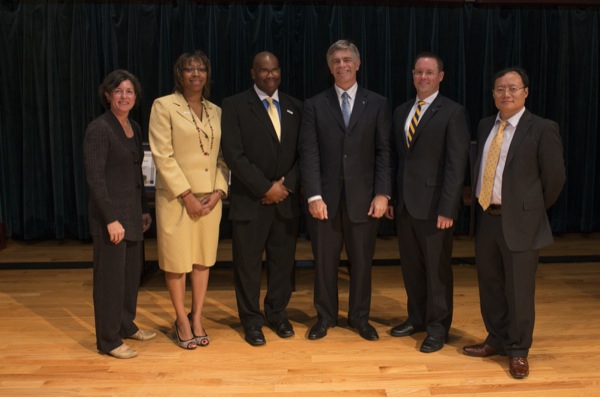 Alumni honored
University honors six as 2012 Presidential Citation recipients
12:10 p.m., Oct. 24, 2012--Six University of Delaware alumni were honored as recipients of the Presidential Citation for Outstanding Achievement during a ceremony held Friday afternoon, Oct. 19, in the Roselle Center for the Arts, as part of Homecoming Weekend festivities.
UD President Patrick Harker welcomed the honorees and their guests and noted that Friday's event marked the 20th year for the Presidential Citations.
National Medal of Science
President Barack Obama recently presented the National Medal of Science to University of Delaware alumnus Rakesh Jain.
Warren Award
Rosalind Johnson, assistant dean for student success in the NUCLEUS Program in UD's College of Arts and Sciences, was presented the John Warren Excellence in Leadership and Service Award during a May 26 ceremony.
Since the award's inception, Harker noted that just 227 people among 157,000 living alumni have been so honored.
"Our honorees are clearly accomplished," Harker said. "They're the success stories we hold out to today's students, the embodiment of the attributes we promise will yield good things -- talent, hard work, discipline, passion, vision, perseverance."
Harker told those attending the event that  "the massive scope of what this University does every day" is borne out in the biographies of the honorees, who are leaders in a range of fields including social networking and entertainment IT, athletic training, economics education, marine biology and biochemistry, higher education and technology infrastructure and systems engineering.
He thanked the citation recipients for their "generosity of time and talent, of intellect and energy," and for "helping us build a better UD."
2012 honorees 
Joseph Chen, who received his bachelor's degree in physics in 1992, is a pioneer of the Chinese Internet industry, called "a creative and conceptual thinker" by Forbes magazine. He is founder, chairman and CEO of Renren Inc., the leading real-name social networking site (SNS) in China. Renren provides SNS, online gaming services and group buying service to a mass audience, primarily through two websites it operates: Renren.com, the top social networking site in China, and Nuomi.com, a leading group buying site. Renren's vision is to define the social networking experience and to revolutionize the way people in China connect, communicate, entertain and shop. In May 2011, Renren became the first SNS company listed on the New York Stock Exchange. 
Chen, who also holds a master's degree in engineering from the Massachusetts Institute of Technology and an MBA from Stanford University, previously was co-founder, chairman and CEO of ChinaRen.com, a first-generation SNS in China and that country's No. 4 portal in 1999. He served as senior vice president of Sohu.com after the two companies merged in 2000. 
Darryl P. Conway, who earned his bachelor's degree in physical education studies and athletic training in 1993, is assistant athletic director for sports medicine at the University of Maryland College Park. He also holds a master's degree in sports management and sports medicine from Adelphi University.  At Maryland, he oversees the day-to-day operation of the Terps Sports Medicine Department, including supervising a staff of 16 certified athletic trainers, three physical therapists and nine team physicians. He coordinates sports medicine services for 22 athletic teams and 600 student-athletes, working directly with the school's nationally regarded football program.
Before joining the Maryland staff in 2004, he was head athletic trainer, head football athletic trainer and adjunct professor and clinical instructor at the University of Central Florida for three years. He previously worked at the University of Northern Iowa, Morgan State University and the New York Jets of the National Football League. From 1996-98, he was an assistant athletic trainer and assistant professor at UD. A frequent lecturer around the country on various sports medicine and administrative topics, he is a member of the National Athletic Trainers' Association and a member of the Advisory Board of the Collegiate Sports Medicine Foundation. 
Andrew T. Hill, who earned his bachelor's, master's and doctoral degrees in economics in 1996, 1997 and 2003, respectively, is the economic education adviser at the Federal Reserve Bank of Philadelphia and an adjunct professor of economics at Temple University. He frequently gives presentations on economic and personal financial education topics. While earning his doctorate at UD, he taught principles of economics and international economics from 1998-2001. Before joining the Reserve Bank in 2002, he was visiting assistant professor of economics at Washington College in Chestertown, Md. 
He served as a member of the board of directors of the Pennsylvania Economic Association from 2004-2007 and as vice president of the Pennsylvania JumpStart Coalition from 2004-2008. In 2006 and 2007, Hill chaired the Federal Reserve System's economic educators group. In 2010 and 2011, he chaired the Federal Reserve Bank of Philadelphia Diversity Council. Since 2001, he has served on the writing committee for the National Standards for Personal Finance. His honors include the 2012 Bessie B. Moore Service Award from the National Association of Economic Educators and a 2001 Excellence in Teaching Award as a graduate student at UD. He has been active on the Lerner College's Alumni Board since 2003. 
Kirk Malloy was unable to attend Friday's event but was honored earlier during UD's Coast Day. Malloy received his master's and doctoral degrees in marine biology and biochemistry in 1990 and 1993, respectively, is vice president of global customer solutions at Illumina Inc., a leading molecular instrument, software and reagent company. He earned his bachelor's degree with a double major in biology and marine science at the University of Miami. At Illumina, Malloy is responsible for commercial operations, management development, strategic leadership, customer loyalty, professional training and operational excellence, managing a team of some 400 employees in 47 countries. Previously, he was with Biosite Inc. and Qiagen Inc.  He also served as a postdoctoral research associate at Boston University and a staff scientist and instructor at Northeastern University.
Malloy is the author of 12 peer-reviewed scientific publications and a book chapter and has given numerous lectures and presentations at academic and professional meetings. A charter member of the College of Earth, Ocean, and Environment's Dean's Advisory Council, he has taken an active role in helping design and implement the college's strategic vision. In 2011, he became a board member of the Friends of the Poor, a nonprofit organization focused on the education of young girls in Nigeria. 
Taesha Mapp-Rivera, who earned her bachelor's degree in electrical engineering in1994 and her MBA in 2000, is corporate program manager for DuPont, where she manages DuPont's Global Trade Secret Risk Management Network, which is responsible for cultivating a disciplined knowledge management culture and robust technology infrastructure. Since she joined DuPont in 1995, she has held a variety of positions, including strategy and planning manager, technical manager, business consultant, first line supervisor and control systems engineer. She received a 2007 Excellence in Engineering Award, as well as a Top 50 Corporate Projects Award. 
Mapp-Rivera serves as a mentor for the Corporate Black Employee Network and has served as a trustee and board member at Prayer Temple Ministries, where she also has served as director of Christian education and choir director. She actively supports UD's Career Services Center by representing DuPont at job fairs and career information sessions on campus. She also has been a featured presenter for UD's Resources to Insure Successful Engineers (RISE) program and has mentored students. She is a long-time supporter of the University's Initiative Fund and recently provided a leadership gift to the Black Alumni Organization's Scholarship Campaign.
Karen A. Stout, who received her bachelor's degree in English in 1982 and her doctorate in educational leadership in 1995, has served as president of Montgomery County Community College, a multi-campus college in suburban Philadelphia, since 2001. She also holds an MBA from the University of Baltimore and has completed professional development programs in higher education leadership at Harvard University. Under her leadership, Montgomery County Community College is recognized nationally for its work in student success and its use of technology. For five consecutive years, the college has been named to the President's National Honor Roll for Community Service and has earned recognition for its work in climate leadership.
Stout chairs the President's Advisory Board to the Community College Research Center (CCRC) at Columbia University Teachers College, is a member of the American Association of Community Colleges Board of Directors and is a commissioner with the Middle States Commission on Higher Education. From 2005-2007, she was president of the Pennsylvania Commission for Community Colleges. She was named to UD's Alumni Wall of Fame in 2005 and the following year earned President of the Year honors from the American Student Association of Community Colleges. 
Photo by Kathy F. Atkinson