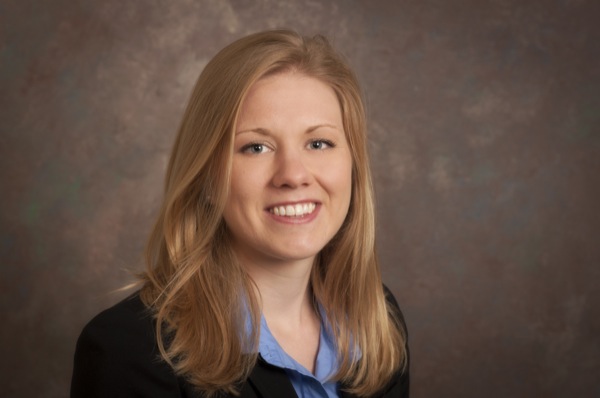 Interactive Classroom
Economics professor implements Wireless Interactive Teaching System
2:03 p.m., Oct. 26, 2012--Ellen Green, a visiting assistant professor of economics in the University of Delaware's Alfred Lerner College of Business and Economics, is finding new ways to engage students in the classroom instead of simply lecturing.
Green uses a Wireless Interactive Teaching System (WITS) in her introductory economics classes that enables students to act as players in different economic scenarios — they even compete against each other during class.
From graduates, faculty
As it neared time for the processional to open the University of Delaware Commencement ceremonies, graduating students and faculty members shared their feelings about what the event means to them.
Doctoral hooding
It was a day of triumph, cheers and collective relief as more than 160 students from 21 nations participated in the University of Delaware's Doctoral Hooding Convocation held Friday morning on The Green.
"There have been papers that show based on tests inside and outside the classroom that WITS helps freshmen absorb material better," Green explained. "In my personal experience, students enjoy using WITS and playing as firms in a market instead of just having someone lecture at them throughout a class."
There are several games involved in the teaching program, which are available to students online. Students are assigned a production cost for producing a good and are then given a widget that allows them to control the selling price on a scale. Students act as the firm in deciding what price they want to sell the product listed. 
Next, the computer generates the buyers based on a predetermined demand curve. The professor's role is to let the students and the computer-generated buyers interact in the market for widgets, similar to how firms and buyers act in the real world. 
According to Green, using this technology allows students to virtually map their behavior in the market. 
"After several rounds students will see that the price goes back to the market equilibrium price," explained Green. 
One game called "Posted Offer" allows students to play the role of sellers in the market. The game's goal, along with many other WITS programs, is to teach topics such as supply and demand, taxes, equilibrium price, markets, profit maximization and experimental economics.
The students' objective is to make as much profit as possible by selling their product at a price above the production cost. The computer generates as many buyers as sellers and students playing buyers in the game have the opportunity to "go shopping" in the market at random. 
Afterward, the computer pulls each production cost from a given distribution, randomly changing from round to round. Students can adjust their selling costs using the widget during each round.
Green uses WITS technology in preliminary economics classes, but said at other institutions professors have incorporated the game in intermediate classes. 
"It's really helping students to understand the foundations of economics — that is what we focus on in the principle levels," said Green. "It clarifies a lot of problems students have when they are first trying to understand markets."
One of the fundamental features of the WITS system is that students can switch roles from buyer to seller, experiencing the market from different perspectives. Students can easily engage in "what if reasoning" to experiment with new stimulations and eventually implement experimental stimulations in a new market condition. Multiple stimulations can be run at once in the classroom, making it easy for both the professor and students to simulate realistic market scenarios. 
Green began using WITS in January with classes ranging from 30 to 200 students and said her experience has proven successful thus far. 
Originating at the University of Texas at Dallas and Virginia Tech, WITS found its way into UD's curriculum after Green picked it up from Sheryl Ball, her adviser at Virginia Tech who spearheaded the program, and Catherine Eckel from University of Texas at Dallas. 
"Students seem to enjoy it," said Green. "Especially in some of the larger courses, they can get really intense about the sales of their products. Students are trying to maximize their profits, so when the program calculates the findings at the end of class, we make a big deal about whoever gets the highest profit. Sometimes students even cheer."
Article by Danielle DeVita