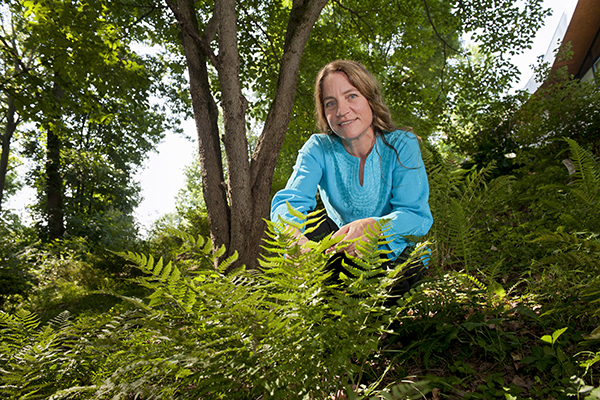 'Earth Perfect?'
Professor's new book examines nature, utopia and the garden
9:33 a.m., Oct. 22, 2012--The garden — "the result of humanity's attempt to carve out an ideal place in nature, thereby fashioning a 'perfect' earth" — is the subject of a new book, co-authored and edited by the University of Delaware's Annette Giesecke.
Earth Perfect? Nature, Utopia, and the Garden is a lushly illustrated, 303-page volume that brings together essays from writers and experts across disciplines to study the relationship — historical, present and future — between humanity and the garden. 
'Resilience Engineering'
The University of Delaware's Nii Attoh-Okine recently published a new book with Cambridge University Press, "Resilience Engineering: Models and Analysis."
Reviresco June run
UD ROTC cadets will run from New York City to Miami this month to raise awareness about veterans' affairs.
Through joined voices from the fields of architecture, history, geography, literature, law and other areas, the garden emerges as a site of contestation and a repository for symbolic, spiritual, social, political and ecological meaning. 
The book's title itself is intended to be provocative, explains Giesecke, a professor of ancient Greek and Roman studies.
"Can we create a perfect nature? Should we be able to?" she asks, rhetorically. 
The book raises numerous issues, including "What is the role of the garden in defining humanity's ideal relationship with nature?" and "How should we garden in the face of catastrophic ecological decline?"
Such topics are covered through wide-ranging case studies, including ancient Roman gardens in Pompeii, Hieronymus Bosch's Garden of Earthly Delights, the gardens of Versailles, organic farming in New England, Bohemia's secret gardens and landscape in contemporary architecture.
As Giesecke writes in the introduction, "Each garden represents the innate human drive to perfect the Earth, and each in its own way signals how delicate is this venture."
Since its publication earlier this year, the book has received wide acclaim. 
The Midwest Book Review wrote, "Thoughtful and thought-provoking throughout, Earth Perfect? is a seminal work of impressive scholarship and a welcome, highly recommended addition to academic library reference collections." 
The book also serves as the basis for a conference of the same name to be held in June 2013. 
The four-day symposium will explore in greater depth — and in partnership with area gardens and museums — many of the issues raised and addressed in the book. 
Earth Perfect? Nature, Utopia, and the Garden is co-edited by Naomi Jacobs, a professor and chair of English at the University of Maine. 
Photo by Evan Krape