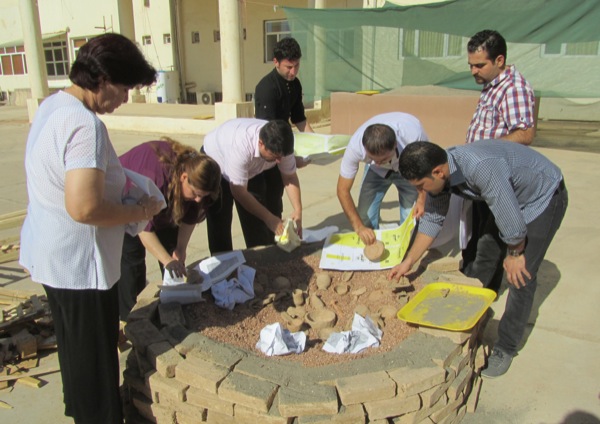 Preserving Iraq's cultural heritage
IICAH's progress applauded by U.S. Secretary of State
10:44 a.m., Nov. 5, 2012--Iraq and the United States are engaged in a collaborative effort to preserve Iraq's cultural heritage. The University of Delaware is part of this endeavor. 
The Iraqi Institute for the Conservation of Antiquities and Heritage (IICAH) has strived to address Iraq's conservation needs by building partnerships across borders.
Fulbright awards
Three University of Delaware students and an alumna have received word this spring that they will travel abroad as part of the newest class of Fulbright Student Program award winners.
Peace Corps plans
Two University of Delaware students, John McCarron and Bridgette Spritz, have been selected as Peace Corps volunteers and will serve in Ghana and Rwanda.
At its annual meeting in October in Erbil, Iraq, the IICAH Board of Directors and the IICAH Iraqi-international Advisory Council announced several successes since the institute's founding in 2008.
Debra Hess Norris, UD's Henry Francis du Pont Chair in Fine Arts and chair of the Department of Art Conservation, and Lois Olcott Price, director of conservation at Winterthur and adjunct assistant professor at UD, attended the two-day meeting, which culminated in a public ceremony and celebration of IICAH's accomplishments.
"From my perspective, the IICAH has survived, grown and prospered," says Price, who chairs the IICAH Advisory Council. "Four years ago, we had no building, classrooms, labs, no instructors and no students. IIACH is now working on a five-year plan. In spite of significant political and cultural differences between Kurdish and Arab regions, IIACH attracts students and visitors from throughout Iraq." 
IICAH Director Abdullah Khorsheed gave the welcoming remarks at the meeting. Gov. Nowzad Hadi of Erbil Province, Ambassador Adam Ereli, principal deputy assistant secretary in the U.S. Department of State's Bureau of Educational and Cultural Affairs, and U.S. Consul General Paul Sutphin also were present and expressed their well wishes. 
Ereli personally delivered a letter from Secretary of State Hillary Clinton congratulating IICAH on its progress and success.
Clinton said, in the letter released on Oct. 6, "On behalf of the U.S. Department of State, I am delighted to thank you for your contributions to the Iraqi Institute for the Conservation of Antiquities and Heritage and to congratulate the institute's graduates."
She added, "While I am unable to be with you today as you come together to celebrate our shared success, the U.S. Department of State is proud to be part of the Iraqi Institute, one of the many ways the United States works to promote the preservation of Iraq's unique and extraordinary cultural heritage." 
This state-of-the-art facility in the Kurdistan region of Iraq "represents a remarkable partnership between the U.S. government, government of Iraq and the Kurdistan regional government," as noted in a press release distributed by the U.S. Consulate in Erbil dated Oct. 9.
"IICAH aims to strengthen cultural heritage preservation understanding, networks and capacity at a time when this knowledge is scarce regionally and is urgently needed," Norris says. 
Since 2009, nearly 100 Iraqis from different areas of the country have been trained, and many have secured a professional education certificate from UD.  
"In time, we hope UD professional credits earned can be used toward advanced Iraqi degrees in archaeology, museum studies and related disciplines," Norris confirms. UD is among 12 U.S. universities that offer flexible admission to Iraqi scholarship students in their field of study.
The mission statement of the IICAH, adopted by the board of directors and advisory council in April, states, "IICAH preserves the legacy of humanity contained in the unique cultural heritage of Iraq. It accomplishes this through educating people in conservation and preservation and by inviting professionals from around the world to share their expertise."
As Price notes, "The growing trust, respect and understanding between Iraqis and Americans on the board, staff and advisory council has resulted in true partnership. Strong personal relationships have developed, and there is growing affection among those who have helped create IICAH."
The IICAH is a unique collaboration between the U.S. Department of State's Cultural Heritage Center, the U.S. Embassy in Baghdad, Iraq's State Board of Antiquities and Heritage, the Erbil Governorate, the University of Delaware's Department of Art Conservation and the Institute for Global Studies, Winterthur, Walters Art Museum, University of Arizona, University of Pennsylvania and the Getty Conservation Institute.
Private donors include the Getty Foundation, the Andrew W. Mellon Foundation and the Bank of America Art Conservation Project. To read more about the IICAH board meeting and celebration visit the website of the U.S. Consulate General in Erbil. 
Article by Fariba Amini