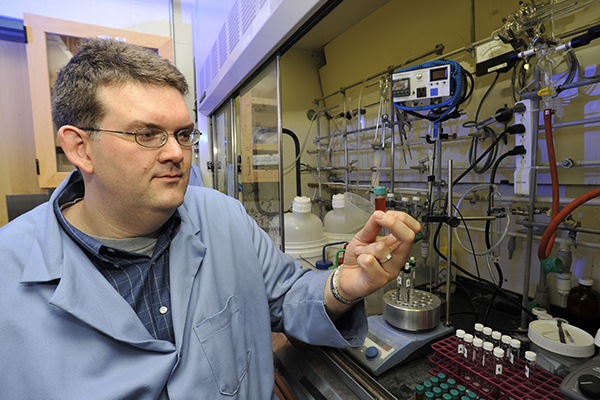 NSF, Cottrell awards
UD professor earns national awards for work creating new carbon-silicon bonds
1:58 p.m., May 15, 2013--Organic chemistry silently infiltrates almost every facet of our everyday lives, from pigments in modern smart-phones, to protectants that increase crop production, to medicines that treat everything from simple colds to the most aggressive cancers. 
However, before the next life-saving medicine, advanced organic-LED touch screen or revolutionary agrochemical can be developed, chemists must have new reactions — "assembly tools," so to speak — to arrange these complex organic molecules in new and efficient ways.
National Medal of Science
President Barack Obama recently presented the National Medal of Science to University of Delaware alumnus Rakesh Jain.
Warren Award
Rosalind Johnson, assistant dean for student success in the NUCLEUS Program in UD's College of Arts and Sciences, was presented the John Warren Excellence in Leadership and Service Award during a May 26 ceremony.
This is where the University of Delaware's Donald Watson and his research team excel. 
Watson, an assistant professor and organic chemist in UD's Department of Chemistry and Biochemistry, focuses on the development of new reactions that enable the synthesis of complex organic molecules. In particular, he and his group are designing new reaction methods that employ transition-metal elements as catalysts. 
A significant portion of the Watson Research Group's effort has been dedicated to creating new methods to prepare organosilanes, organic compounds that contain silicon atoms. His interest in developing new routes to such compounds stems from their extreme utility and widespread applications in drug synthesis, agrochemical synthesis and material science. 
Silicon is a unique atom in organic chemistry. It is non-toxic yet it imparts very useful reactivity on the molecules that bear the atom. Silicon is also remarkably abundant, Watson adds, which also makes it attractive from an economic and environmental standpoint. 
Watson's work in this area has recently been recognized by two highly competitive research awards — a $570,000 Faculty Early Career Development Award from the National Science Foundation and a $75,000 Cottrell Scholar Award from the Research Corporation for Science Advancement (RCSA). 
Only 13 Cottrell Scholar Award were made this year across all fields of chemistry, biochemistry, physics and astronomy, and Watson is the second faculty member in UD history to receive this honor.
The NSF Career Award funds Watson to examine new ways to construct vinyl and allyl silanes using simple alkene starting materials. While their utility has been broadly recognized by organic chemists, "traditional methods for preparing these compounds are difficult and expensive," Watson explains.
This Silyl-Heck Reaction, as he has termed it, is a very simple method to prepare these two types of important organosilanes. 
In the new method, his group adds silicon to unfunctionalized, or simple, alkenes, which are cheap and widely available.
What makes Watson's work so novel is his creation of a "Goldilocks" catalyst based on the element palladium to form these carbon-silicon bonds. Using cheap, stable starting materials, he and his team have developed a reaction that increases the complexity of these simple materials by adding silicon through a "just right" balance of size and electronic properties. 
The research builds off the Nobel Prize-winning work of UD's Richard Heck, Willis F. Harrington Professor Emeritus of Chemistry and Biochemistry, whose pioneering developments of reactions to form carbon-carbon bonds through palladium catalysis enabled chemists to make molecules as complex as those created by nature itself. 
The Cottrell Scholar award will look at new methods to help "stitch together" high-value silylacetylides, a related and also useful type of organosilane.
"We discovered the silylacetylide chemistry by accident as we were conducting our initial studies of the Silyl-Heck Reaction," Watson said. He expects this new process will open new opportunities in the way these types of compounds are prepared.
In addition to funding this bench science, both awards also include an educational component. Through the NSF Career Award, Watson will partner with the NUCLEUS program to establish fellowships for underrepresented students early in their undergraduate careers. With funding from the Cottrell Award, he will help students better understand the qualitative concepts and inductive reasoning behind organic chemistry by developing a bridge course that draws on practical examples of chemistry at work.  
To quote RCSA President Jack Pladziewicz, "Not every faculty member in a research university can do both groundbreaking research and lead teaching improvement. But the very best can."
Watson remains humbled by the awards, particularly coming on the heels of each other, but makes clear that they are due to a strong team effort. 
"These awards recognize the extreme talent and dedication of my research students and post-docs. Without their hard work and constant effort, none of this science would be possible," he said. "I am very fortunate to have such a great group of students working with me."
About the NSF Career Award
The NSF Faculty Early Career Development program recognizes junior faculty for their role as teacher-scholars and for integrating education and research within the context of their organization's mission. Proposals are reviewed by colleagues in the field, and the highly competitive award is bestowed on those scientists and engineers deemed most likely to become the academic leaders of the 21st century.
About the Cottrell Award
The Cottrell Scholar Awards, instituted in 1994, are named in honor of Frederick Gardner Cottrell, scientist, inventor and philanthropist. Cottrell founded what is now the Research Corporation for Science Advancement (RCSA) in 1912 to provide support for scientific research and experimentation at scholarly institutions. The RCSA remains America's oldest foundation devoted exclusively to science.
Article by Artika Casini
Photo by Kathy F. Atkinson