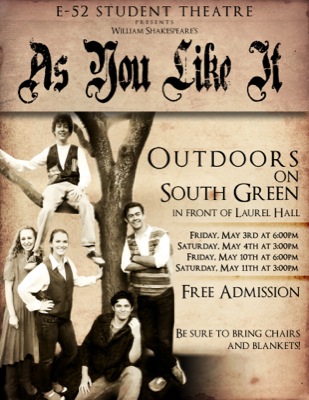 May 3, 4, 10, 11: 'As You Like It'
E-52 sets outdoor production of Shakespeare's 'As You Like It'
10:12 a.m., May 1, 2013--The University of Delaware's E-52 Student Theatre will perform a free outdoor show, William Shakespeare's As You Like It, on the South Green in front of Laurel Hall.
Performances are scheduled at 6 p.m., Friday, May 3; at 3 p.m., Saturday, May 4; at 6 p.m., Friday, May 10; and at 3 p.m., Saturday, May 11.
June 5: Blue Hen 5K
University of Delaware graduates planning to attend Alumni Weekend are encouraged to register for the annual Blue Hen 5K walk and run, which will be held Sunday morning, June 5.
June 6-9: Food and culture series
The 20th annual June Lecture Series at the Osher Lifelong Learning Institute at UD in Wilmington will be held June 6-9. Titled 'June a la Carte,' this year's program focuses on great political documents, feminism, world politics and a Newark cuisine sampler.
Those who attend are encouraged to bring chairs and blankets.
In the event of poor weather, the performance will be canceled.
E-52 typically presents a free outdoor show in the spring to showcase a traditional theatre experience for members of the community. 
As You Like It is a comedy about a heroine, Rosalind, and her cousin, Celia, who are banished from their court, leading them to venture into the Forest of Arden with exiled others.
The production is directed by Brad Michalakis. The players are Emily Van Atta, Sean Considine, Kathy Harris, Josh Barton, Claire Davanzo, Brett Smith, Blair Schuman, Rebecca Deegan, Brad Michalakis, Rebecca LaPlaca, Brittany Banks, Miranda Daviduk, Jeremy Ryan and Chris Carnevale.
For details, see the Facebook event page.