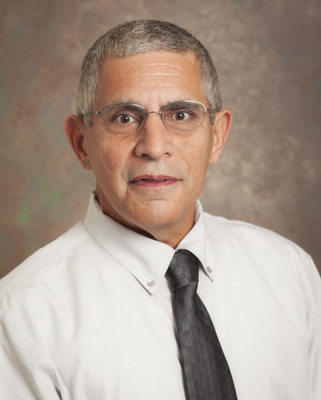 In Memoriam
Biostatistician Barry Milcarek remembered as full of life, love
9:13 a.m., May 6, 2013--Barry Milcarek, biostatistician in the University of Delaware College of Health Sciences and the Delaware Rehabilitation Institute, died suddenly at his home in New Jersey on April 20, 2013.  He was 64.
Before joining the UD staff in September 2012, Dr. Milcarek was chief biostatistician at Cooper University Hospital in Camden, N.J.  
"In the short time, he was with our college, Barry had a tremendous impact, both personally and professionally," said health sciences dean Kathleen Matt.  "He was a great asset to our researchers as they designed research protocols, developed proposals, and analyzed data.  But Barry was also just a wonderful person to be around. His entertaining stories, his critical mind and his extraordinary willingness to support those who came to him were just part of what made him truly special to us." 
In addition to his appointment at UD, Dr. Milcarek served as a statistical consultant to several academic institutions and hospitals, including University of the Sciences, Philadelphia College of Pharmacy; Hahnemann University Hospital, Drexel University College of Medicine; Jefferson Medical College, Thomas Jefferson University; Philadelphia College of Osteopathic Medicine; and Rutgers University School of Nursing.
Dr. Milcarek earned his Ph.D. in biostatistics at City University of New York Graduate Center in 1981. He was a co-author on 30 refereed journal papers and a member of a varied group of professional societies, including the American Pharmaceutical Association, American Statistical Association, Society for Risk Analysis, American Industrial Health Council, Industrial Epidemiology Forum, Society for Critical Care Medicine, American College of Cardiology and American Public Health Association.
Mia Papas, assistant professor in the Department of Behavioral Health and Nutrition, remembers Dr. Milcarek  as "a wonderful guy, full of life and a lot of love for his family and friends."
"Working with him was a joy," she said. "He always knew how to make you smile."
Dr. Milcarek is survived by his wife, Mary McLean; his parents, Shirley and Ivor Milcarek; his daughter, Heather (Michael Miller), and his son, Rory.
A private service is being planned. In lieu of flowers, donations can be made in Dr. Milcarek's memory to St. Jude Children's Research Hospital, P.O. Box 1000, Memphis, TN 38148, Tribute Account #33433844.