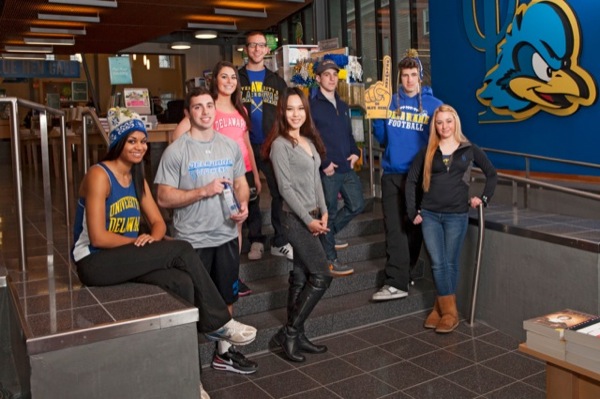 Pinterest launch contest
University of Delaware launches Pinterest page with a fashion contest
11:28 a.m., March 11, 2013--From fashion to food, destinations and decor, the University of Delaware hopes to inspire Blue Hens everywhere as it officially launches its Pinterest page.
An online community where users build virtual "pinboards" from images that represent or inspire them, Pinterest emerged in 2012, according to Neilsen, as "one of the breakout stars of social media."
From graduates, faculty
As it neared time for the processional to open the University of Delaware Commencement ceremonies, graduating students and faculty members shared their feelings about what the event means to them.
Doctoral hooding
It was a day of triumph, cheers and collective relief as more than 160 students from 21 nations participated in the University of Delaware's Doctoral Hooding Convocation held Friday morning on The Green.
While UD has been using Pinterest since 2012, the official launch expands the ways Blue Hens can connect with the University. In celebration, UD is revealing new boards every day from March 11-15.
Some boards will be geared toward students with health and fitness, career advice and room decorating tips, and others have been created with alumni in mind – such as wedding day ideas, tailgating recipes and travel.
Trendy Hens contest
The launch kicks off with the debut of the "Trendy Hens," board and a contest.  
Through a partnerships with the student-run UDress Magazine and the UD Bookstore, UDress Magazine stylists created eight University of Delaware-themed outfits that came straight from the racks of the bookstore.
UD students are modeling these looks on the fashion-oriented "Trendy Hens" board, and members of the University community are encouraged to vote for their favorite UD outfit via Pinterest. Voting is open from Monday, March 11, through Monday, March 18, at 5 p.m. Pinterest followers can vote by "liking," "repining" or commenting on their favorite outfit on the "Trendy Hens" board.
An Office of Communications and Marketing representative will randomly choose a winner out of all votes cast on Tuesday, March 19. The lucky winner will be provided with a fashionable UD-inspired outfit from the University of Delaware Bookstore.
Additionally, the photo that receives the most votes will also serve as the board cover for the "Trendy Hens" Pinterest board.
Follow the University of Delaware on Pinterest at www.Pinterest.com/UDelaware.
Article by Julie Cohen
Photo by Ambre Alexander