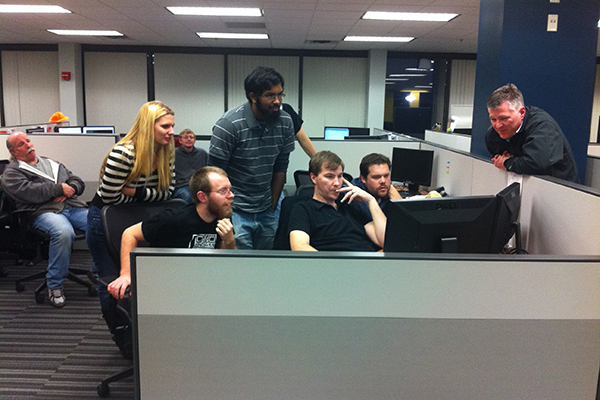 SevOne supports Delawareans
Delaware alumni discuss successful SevOne entrepreneurial endeavor
11:15 a.m., March 25, 2013--From humble beginnings in a small workspace off Main Street in Newark, Del., to a recent announcement that they raised $150 million in funding led by Bain Capital Ventures, Vess and Tanya Bakalov's business, SevOne, may be on the fast track to success but the alumni power couple hasn't forgotten their connection to the University of Delaware.
SevOne, which the Bakalovs founded in 2005, provides a fast, scalable IT management and reporting platform, delivered as all-in-one appliances, to help clients detect and avoid performance events before they negatively impact the business.
'Resilience Engineering'
The University of Delaware's Nii Attoh-Okine recently published a new book with Cambridge University Press, "Resilience Engineering: Models and Analysis."
Reviresco June run
UD ROTC cadets will run from New York City to Miami this month to raise awareness about veterans' affairs.
Just last year SevOne was recognized as one of the fastest growing private companies by Deloitte and was acknowledged as a "Cool Vendor in Communications Service Provider Infrastructure" by Gartner Inc. It was also honored as a Top 10 Company to Watch by Stratecast, an annual report that honors companies that create innovate and agile business solutions, and in 2011 received similar accolades from Inc.
Vess Bakalov, senior vice president and chief technology officer, said inspiration for SevOne came when he saw opportunities for improving techniques in the systems he used while employed at Bank One and from the computer science lessons he taught his students during night classes at UD.
"To be honest it was born out of frustration and the desire for technological efficiency," said Bakalov, a 1999 computer sciences graduate.
Tanya Bakalov, a 2004 management information systems graduate and senior vice president of operations at SevOne, said despite their enthusiasm for the project she and Vess initially struggled to start the company.
She said they both learned important skills while at UD but didn't have a formal entrepreneurial studies program to supplement their education, and applauded the Horn Program in Entrepreneurship, which now supports student entrepreneurialism.
"It definitely would have been helpful if there were likeminded people around," Bakalov said. "In such a small state it can be hard to find start-up activity or be positive in what you're doing without stories or support from others who were successful."
Added Vess Bakalov, securing legitimate workspace was also a struggle and in order to stay in Newark to utilize resources offered by UD, they started the company in converted housing behind Captain Blue Hen Comics and Entertainment off Main Street. 
Unable to secure permanent space in Newark, he said they moved their headquarters to Wilmington two years ago. While they are physically further from the University, Tanya added they still try to stay actively involved. 
"Each year, we bring in about 20 UD graduates," Tanya Bakalov said. "We probably have 40 UD graduates working here. All the time we have interns from UD."
Daniel Freeman, director of the Horn Program, called the Bakalovs "incredibly bright, motivated people," and acknowledged SevOne has become involved with the program by participating in lectures and discussions on how to start a business as part of the Free Lunch Friday series.
"SevOne really is the shining star of the Delaware start-up community," said Freeman. "What they've been able to accomplish in a short period of time is just amazing and the kind of traction that they have with their customers and their laser focus on customer service is an exemplar role model for the rest of the venture community."
Vess Bakalov said the company has come a long way since its founding behind Blue Hen Comics, adding they have employees working around the world and hope to continue growing the company at a rapid pace. 
For would-be entrepreneurs, he said one of the most important parts to being successful is having the drive and skills to make things work. While he largely credits his success to the skills he learned at UD, Vess Bakalov said listening to his gut was also a contributing factor and encouraged budding entrepreneurs to do the same. 
"Once you decide something is a good idea, do it," Bakalov said. "Listen to naysayers and take notes but don't take them seriously. However, if something doesn't work, stop it. Don't be married to your idea. You don't have resources to waste on a bad idea."
Article by Kathryn Meier and Rachel Taylor
Photo courtesy of SevOne