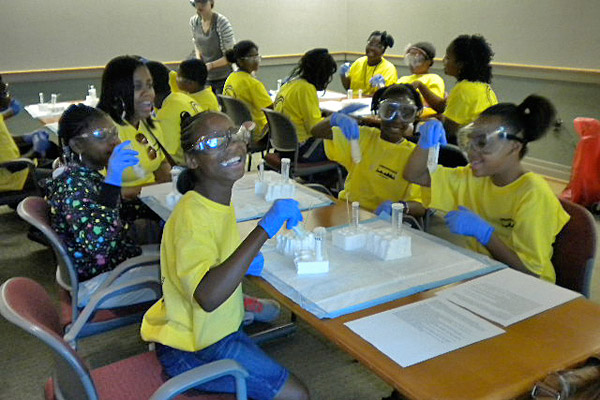 Summer science
Urban Promise, 4-H provide middle school students tour of DBI
3:18 p.m., July 5, 2012--The Delaware Biotechnology Institute (DBI) at the University of Delaware opened its doors to middle school 4-H campers on Friday, June 29, providing them an interactive behind-the-scenes tour of the facilities and a chance to see real scientists and their work.
Wilmington's Urban Promise summer day camp, Camp Harmony, in collaboration with the National 4-H Council and DBI, arranged the field trip with the aim of teaching aspects of biotechnology to urban youth. These campers were among the 2,000 children to which DBI opens its doors every year.
From graduates, faculty
As it neared time for the processional to open the University of Delaware Commencement ceremonies, graduating students and faculty members shared their feelings about what the event means to them.
Doctoral hooding
It was a day of triumph, cheers and collective relief as more than 160 students from 21 nations participated in the University of Delaware's Doctoral Hooding Convocation held Friday morning on The Green.
The tour began with a presentation delivered by Laura Crozier, DBI's grants and communications specialist. She started with an overview of various applications of biotechnology and talked about the types of scientific research being performed within the institute. 
Crozier explained that the children would get a chance to see laboratories in which bio-energy, medicine, agriculture and environmental research are being conducted.
'The Cave'
"The Cave" is the nickname for DBI's three-dimensional imaging room. Here, 3-D glasses respond to an ultra-sonic frequency behind a giant screen, allowing the viewer to see the depth of the images on the screen. 
Eric Garrison, a campus information technology associate, led the show by projecting various images of the human body – like protein molecules on nerve cells and MRI slices of the abdomen. His presentation intrigued and challenged his audience during this interactive session. 
At one point while the children were being shown an image of a pair of human lungs, Garrison told them it was time to take a trip "inside" the organ. 
The visitors could barely contain their excitement when, suddenly and unexpectedly, they were visually plunged down into the organ via the trachea at a heart-racing speed. They were experiencing the point of view of a doctor using a camera scope but because of the giant screen this was mixed with the sensation of being on a roller coaster riding through a dark tunnel as "The Cave" took on the feel of a scientific amusement park.
Lab tour
As the students were led down the hallways of DBI, they peeked through doorways and observed real scientists in action. Crozier explained the types of research being conducted in each lab they passed and how it related to their daily lives. 
This put the children in a contemplative mood and questions were asked about how they could one day become scientists. Ten-year-old Saani Edwards had questions at every turn and said that science is one career she is considering.
DNA isolation
The Urban Promise campers had previously learned about DNA, but they had never actually seen it with their own eyes, as many have not. 
Grace Isaacs, a research associate in animal and food sciences, led the children in an experiment that made it possible. The kids donned safety goggles and gloves and worked at lab stations with their test tubes while Isaacs led them through the activity that aimed to pull DNA out of slices of an onion. 
The end result was actual pure DNA that appeared as a cloudy translucent substance and that clumped together when pulled out of the campers' test tubes. 
Bio-imaging
The visitors were invited to visit DBI's Bio-Imaging Center, as well. There they were met by Deborah Powell, a bio-imaging research associate, who gave a presentation on "water bears" -- also known as the tardigrades -- one of the world's most fascinating microscopic organisms. 
She used the water bear to demonstrate how an organism can look when viewed through different microscopes. Then each child had the opportunity to look at onion cells (from the same onions they had used in the DNA experiment) through light microscopes.
While waiting in line for her turn at the microscope, 11-year-old Dinah Kane noticed through a dark doorway that a scientist was bent over a microscope -- an atomic force microscope.
Captivated by this scientist working feet away from her, she hesitantly spoke up and asked him what he was looking at. She was proud to relay to her friends that he had paused his work to answer her question. He was studying bacteria, she told them.
About the field trip
This field trip was made possible through a grant from the United Soybean Board to the 4-H Teen Teaching Biotechnology Program, as part of an initiative to present urban youth with opportunities to learn about biotechnology. 
The hope is that these unique, hands-on experiences with science will have a greater impact then class lectures or words in a textbook. Meeting real scientists, seeing their work spaces and using their tools can create a mental bridge between a child's dream and a future outcome. 
Chances are some of these campers will one day go on to pursue careers in STEM (science, technology, engineering and mathematics) fields. 
Throughout the day at DBI, many of these young campers could be heard proclaiming that when they grow up, they want to be scientists.
Mark Manno, interim state 4-H youth development program leader, summarized the value of the field trip, saying, "We never know what experience will plant a seed in a child that sprouts years later."
Article by Sara Hines