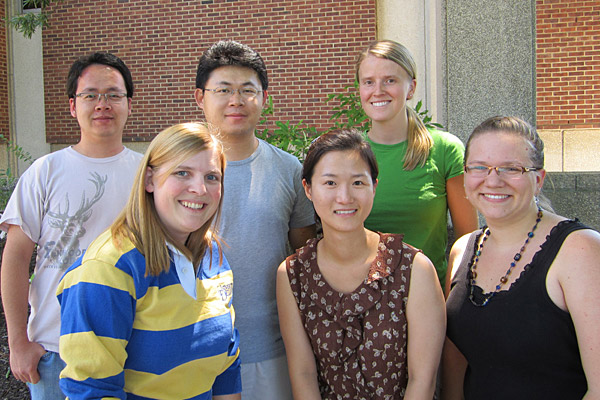 Academic career prep
UD summer institute helps students prepare for academic careers
1:21 p.m., July 31, 2012--Six highly motivated University of Delaware postdoctoral fellows and doctoral students from a range of disciplines dedicated a week of their summer, from July 23-27, to participating in the Putting Your Ph.D. to Work: Academic Career Preparation Summer Institute.
The institute was co-sponsored by UD's Office of Graduate and Professional Education, the Center for Teaching and Assessment of Learning and the UD Career Services Center.
From graduates, faculty
As it neared time for the processional to open the University of Delaware Commencement ceremonies, graduating students and faculty members shared their feelings about what the event means to them.
Doctoral hooding
It was a day of triumph, cheers and collective relief as more than 160 students from 21 nations participated in the University of Delaware's Doctoral Hooding Convocation held Friday morning on The Green.
The institute focused on the dual goals of preparing participants for the academic job search and successful transition into the first year of an academic appointment.
Co-facilitated for the third summer by Gabriele Bauer, associate director of the Center for Teaching and Assessment of Learning, and Marianne Green, former assistant director of the Career Services Center, the morning sessions -- held from 9 a.m. to noon -- provided a framework for understanding and preparing for the academic job search process and aspects of faculty careers.
The afternoon sessions -- held from 1-3:30 p.m. -- were devoted to developing and honing job application documents such as the CV, cover letter, research statement and teaching statement with the help of instructor feedback and peer review.
In addition to online resources in Sakai and the text The Chicago Guide to Your Academic Career, the institute fellows discussed aspects of the job search process with recent job applicants, search committee members and junior faculty.
Nicole Smolter, doctoral candidate in sociology and criminal justice, elaborated on her successful academic job search that resulted in an appointment as assistant professor at California State University, Los Angeles.
Joshua Zide, assistant professor of materials science and engineering at UD, provided the search committee perspective and Michelle Oswald, assistant professor of civil and environmental engineering at Bucknell University, considered, via Skype, her first year as faculty.
Fellows in the 2012 Academic Career Preparation Summer Institute were: Amber Collins, postdoctoral fellow (Department of Mechanical Engineering); Geun Koh, doctoral candidate (Department of Political Science and International Relations); Wei Li, postdoctoral fellow (Delaware Environmental Institute); Xinhui Li, postdoctoral fellow (Department of Animal and Food Sciences); Susanna Molitoris Miller, doctoral candidate (School of Education); and Sara Patterson, doctoral candidate (Department of Civil and Environmental Engineering).
Li said of the institute, "As an international postdoctoral fellow, it was very important for me to see how the academic job search works in the United States.  I learned so much in just one week."
Koh echoed Li's words and added, "I was so focused on my dissertation that I hadn't really thought about my CV, cover letter and other materials I would need for my job search.  The summer institute helped me fill these gaps."
"Participating in this summer institute gives me extra confidence because I know my documents are being prepared correctly and my interviewing skills have increased.  Now I'm a little less stressed about the application process," said Molitoris Miller.
Patterson mentioned the practicality of the summer institute, saying, "I liked hearing the perspective of people who have successfully gone through the academic job search process.  Their advice is grounded in their experience."
The Academic Career Preparation Summer Institute will be offered again in the summer of 2013 and information about the 2013 institute will be available next spring. For more information, see the website.