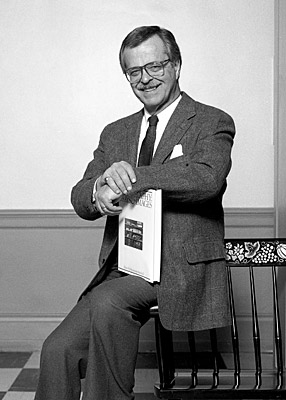 In Memoriam
Prof. William Innes Homer dies
2:39 p.m., July 24, 2012--William Innes Homer, H. Rodney Sharp Professor Emeritus of Art History at the University of Delaware, died July 8. He was 82. 
A nationally recognized scholar, teacher and connoisseur, Dr. Homer was a specialist in the art and photography of the United States from the late 19th century to the present and was the author of books on Robert Henri, Alfred Stieglitz and the Photo-Secession, Gertrude Käsebier, and Thomas Eakins. He co-authored a book with Lloyd Goodrich on Albert Pinkham Ryder.
June 6: UDid It! Picnic
All UD faculty and staff members are invited to attend the annual UDid It! employee appreciation picnic, set from 11 a.m.-1:30 p.m., Monday, June 6, on The Green.
2FA protects you
If you are using two-factor authentication (2FA), even if a hacker has your password, your information is probably safe.
Dr. Homer served as the first chairman of UD's Department of Art History from 1966-81 and also served as acting chairman in 1986-87 and chairman from 1988-93.  In 1984, he was named H. Rodney Sharp Professor of Art History, retiring in 2000. 
His honors include the University's  highest faculty honor, the Francis Alison Faculty Award, in 1980 and a Distinguished Faculty Lectureship in the College of Arts and Sciences in 1981. His book Thomas Eakins: His Life and Art was named by Choice as one of the best academic books of the year in 1992. 
In 1998-99, Dr. Homer gave a collection of papers related to American artist Albert Pinkham Ryder to the University of Delaware Library.
After his retirement, Dr. Homer remained very active. The Paris Letters of Thomas Eakins, his last of 11 well received books, was awarded a Wyeth Foundation for American Art Publication Grant from the College Art Association. The final volume of Eakins' letters remains among several nearly finished projects.
Born in Philadelphia and raised on the Main Line, Dr. Homer graduated magna cum laude from Princeton University in 1951. At Harvard University, he earned a master's degree in 1954 and his doctorate in 1961. During that period he was invited to return to Princeton as an instructor while he completed his own studies. After receiving his Ph.D., he was appointed an assistant professor at Princeton, where he taught until 1964.  He was associate professor in Cornell University's Department of the History of Art from 1964-66. 
An accomplished musician since childhood and an ardent HAM radio operator, his other hobbies including trapshooting and billiards.
He is survived by his wife of 26 years, Christine Hyer Homer, his sons Stacy Innes Homer and Frederick L. (Jacqueline) Hyer III and daughters, Susan Christine Hyer, Elizabeth Hyer (Robert) Rose and granddaughters Siana Christine Sharp and Phoebe Lucas Hyer; his brother Stephen A. (Florence) Homer and many cousins.
A memorial service and celebration of life will be held at 11:30 a.m., Friday, Oct. 26, at Christ Church Christiana Hundred, Greenville, Del. Guests are invited to a luncheon after the service. Those planning to attend are asked to call Chandler Funeral Homes at 302-478-7100. 
Memorial contributions may be made to the Department of Art History, University of Delaware, Attn: Linda Magner, 318 Old College, Newark, DE 19716-2516.
Condolences may be left online.